ETF in New York Proved Prescient in Forecasting Greek Plunge
When it came to Greek equities, investors could have skipped the tea leaves and focused on an exchange-traded fund listed on the New York Stock Exchange.
Investors who followed the Global X FTSE Greece 20 ETF were prepared Monday when the benchmark ASE Index tumbled 17 percent after a five-week closure of the Athens Stock Exchange. Transformed into a vehicle for speculation in the absence of prices for its constituent shares, the U.S.-listed security fell just that much from June 26 through Friday. It slipped 1.9 percent at 12:52 p.m. New York time on Monday.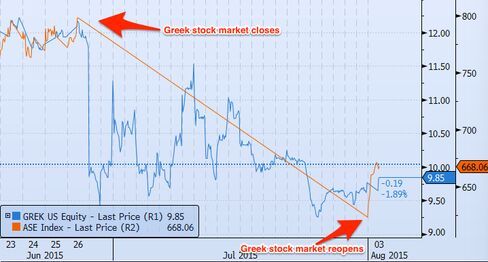 "If you decided to invest in Greece, this ETF may have been a good option," said Estefania Ponte, the Madrid-based research director at BNP Paribas Personal Investors. "It reflected the underlying asset well."
With a market value of about $307 million, the ETF became virtually the only way to express an opinion on where Greek equities would reopen. The Lyxor ETF FTSE Athex 20, a similar fund with listings in Europe, was halted during the shutdown. Its French version fell on Monday, while the German one rose. Its shares in Italy will resume trading soon, Lyxor said.
Trading of the Greek ETF, known by its ticker symbol GREK, intensified during the shutdown. An average of 2.2 million shares changed hands each day during the five weeks. That's more than double the mean volume in the previous six months. The fund became so popular that it was headed for a record year of inflows, attracting $281 million of fresh money in 2015 through the end of June.
Excellent Job
While critics have recently warned that ETFs won't work as advertised in periods of market turmoil, it's hard to knock the Global X fund, according to Peter Tchir, head of macro credit strategy in New York at Brean Capital LLC.
"There is a lot of discussion about the ability for ETFs to function where the underlying market is illiquid," Tchir said. "GREK, in my opinion, seems to have done an excellent job of tracking the market."
Greek lenders led the ASE lower Monday. Piraeus Bank SA and National Bank of Greece SA sank 30 percent, the daily maximum allowed by the exchange. American depositary receipts of National Bank of Greece lost 29 percent in New York during the Athens closure.
While trading in Greece has resumed, investors will have some limitations as capital controls remain in place.
"We don't recommend investing in Greece at this point because the situation isn't clear enough," BNP's Ponte said. "While we do not see it leaving the euro, there's still too much uncertainty and volatility going forward."
Before it's here, it's on the Bloomberg Terminal.
LEARN MORE