U.K., France Prod EU to Stem 'Global Migration Crisis' in Calais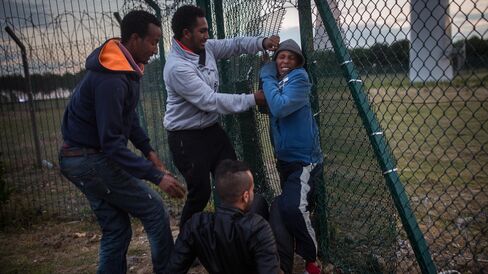 U.K. and French leaders appealed to the European Union to help ease an escalating crisis caused by hundreds of would-be migrants attempting to reach Britain through the Channel Tunnel.
"We are pushing other member states – and the whole of the EU – to address this problem at root," British Home Secretary Theresa May and French Interior Minister Bernard Cazeneuve wrote in the Sunday Telegraph newspaper. "What we are currently facing is a global migration crisis."
The two nations are trying to stop repeated attempts to enter the tunnel to the U.K. via the tunnel terminal in Calais, northern France. Their endeavors to reach Britain have intensified since June, prompting the deployment of French riot police to the area where migrants have stormed checkpoints and torn down fencing.
U.K. Prime Minister David Cameron, who has drawn criticism after describing African immigrants to Europe as "a swarm," pledged on Friday to send additional resources to France to help stop disruption to train and ferry services, which are currently in their peak season for holidaymakers.
Before it's here, it's on the Bloomberg Terminal.
LEARN MORE