Kerry Sees Improved Egypt Ties Despite Human Rights Tensions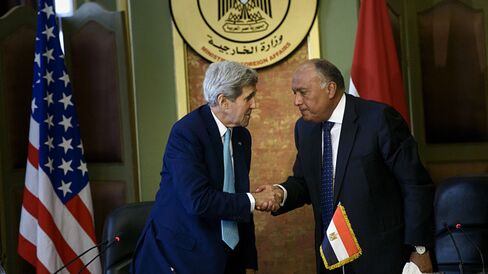 Secretary of State John Kerry sought to patch up relations with Egypt's leaders Sunday, in a visit preceded by the delivery of U.S.-made fighter jets delayed by the 2013 military-backed ouster of the country's elected Islamist president.
U.S. officials said the delivery of the eight F-16s on the eve of the "strategic dialogue" was coincidental. Still, the developments reflect efforts to repair a historic alliance amid continuing tensions over the Egyptian government's crackdown on a range of opponents.
The U.S. is seeking to smooth relations with President Abdel Fattah El-Sisi, the former army chief elected to civilian office in May 2014, given shared concerns about stability in the most populous Arab nation and the regional rise of the Islamic State, including in Egypt's Sinai peninsula.
Egypt wants political and economic stability to boost its recovering economy, including by attracting U.S. direct foreign investment.
Egyptian Foreign Minister Sameh Shoukry described the talks as "very positive," while Kerry used the diplomatic code words "very frank, very candid" to reflect persistent tensions.
Kerry described what amounts to a U.S. balancing act in seeking to press Egypt on elections, human rights and economic reforms while working closely on a range of other issues such as fighting terrorism, especially Islamic State.
"The combination of economic engagement and security engagement sees the United States and Egypt moving back to a strong base for a relationship," Kerry said.
A Mild Rebuke
Still, Kerry mildly rebuked Egyptian officials for their imprisonment of democracy advocates and journalists. At a press conference with his Egyptian counterpart, Kerry said it's important for Egyptian authorities "to distinguish between those who use violence to achieve their ends, and others who seek peacefully to participate in a political dialogue, even if what they say sometimes may make people uncomfortable."
Kerry and Shoukry held the first U.S.-Egypt "strategic dialogue" since December 2009. Egypt first sought the meeting in late 2013 when President Barack Obama, following the military-led ouster of President Mohamed Mursi, suspended delivery of major military systems, including F-16s, Apache helicopters and M1A1 tanks, under Egypt's $1.3 billion a year U.S. military aid program,
Kerry cited "national security" in resuming the aid in 2014, including the delivery of 10 Apaches in December. The F-16s, made by Lockheed Martin Corp., arrived July 31, according to the Al Ahram Arabic news website.
'Repressive Trajectory'
"The fact that these talks have taken nearly two years to convene reflects Washington's continued discomfort with Egypt's repressive trajectory," as well as more pressing matters elsewhere in the region with the rise of Islamic State, Eric Trager and Eitan Sayag at the Washington Institute for Near East Policy, wrote on the research center's website.
As one sign of the shifting U.S. approach, Kerry said the two nations "are moving back" to conducting military exercises and training. That includes the biannual Bright Star exercises that the U.S. canceled in 2011 amid the Arab Spring turmoil and two years later after Egyptian security forces killed hundreds of Mursi supporters as they cleared two protest camps in Cairo.
Security Assurances
Kerry also met Sunday with El-Sisi before flying to Doha, Qatar, to meet with foreign ministers from Saudi Arabia and other Persian Gulf Arab nations who are seeking new security assurances after the nuclear deal with Iran.
Kerry's moves to reconcile with Egypt are being watched closely by U.S. lawmakers and regional analysts who say they are troubled by El-Sisi's actions.
In a letter, 11 Egypt policy specialists warned that Egypt, by curtailing political speech and legitimate opposition, is being "counterproductive and risks further inflaming a volatile environment."
While the Egyptian government said Sunday's meeting reflects the "dynamic partnership" between the nations, a bipartisan group of seven U.S. senators sees a more troubled relationship. The group includes Ben Cardin of Maryland, the senior Democrat on the Senate Foreign Relations Committee, and Republicans John McCain of Arizona and Marco Rubio of Florida, a presidential candidate.
The senators urged Kerry in a letter in late July to make political reform, human rights and fundamental freedoms a "central element" of the talks. Their concerns were a warning to Egypt, which relies on Congress to approve military aid.
Islamic State
Egypt has argued that it's waging a war against terrorism, and has routinely blamed the Muslim Brotherhood for attacks.
While militants loyal to the Islamic State have claimed responsibility for attacks in Sinai and Cairo, the government has cited the Brotherhood for other violence, including a car bombing that killed the country's top prosecutor. The Brotherhood has denied involvement in such attacks, even as it endorsed the use of "all means" to combat the "military coup regime" following death sentences imposed on Mursi and other top Brotherhood leaders earlier this year.
Shoukry called the Brotherhood a "fountain" of radical Islamic ideology, signaling no easing of government efforts to delegitimize the group that had fielded Mursi for office.
In Sunday's talks, Kerry said he expressed the need for "free, fair, and transparent parliamentary elections in Egypt this year, that are open to all peaceful political actors." He said he was told the elections will be held in early fall.
El-Sisi has said elections, the final step in a transition to democracy, would be held by the end of the year. The vote for a new legislature had been scrubbed in March after the Supreme Constitutional Court had declared part of the election law unconstitutional.
Economy Improving
On the economic front, Kerry said the talks covered ways to improve Egypt's business climate, attract new investment, spur trade, and create jobs.
Egypt's economy is showing signs of picking up, with S&P projecting annual real GDP growth of about 4.3 percent on average for 2015-18, up from the 2.1 percent average of 2011-2014.
The pace of economic reforms has has slowed after some initial steps, such as reducing costly fuel subsidies, said Amy Hawthorne, a senior fellow at the Rafik Hariri Center for the Middle East at the Atlantic Council in Washington. There "seems to be a lack of political will, and pushback from some stakeholders," Hawthorne said in an interview.
Despite positive economic predictions, Egypt's benchmark stock index has fallen almost 19 percent from a seven-year high made in February, and is down 8.6 percent for the year to date, hurt by the country's instability.
The U.S. is one of Egypt's key trading partners, with nearly $8 billion in good and services exchanged between the countries in 2014, according to the Egyptian embassy. U.S. foreign direct investment in Egypt totaled $2.1 billion, representing 32 percent of U.S. total FDI in Africa, according to the embassy.
Before it's here, it's on the Bloomberg Terminal.
LEARN MORE