Israeli Leaders Back Tougher Measures Against Jewish Extremists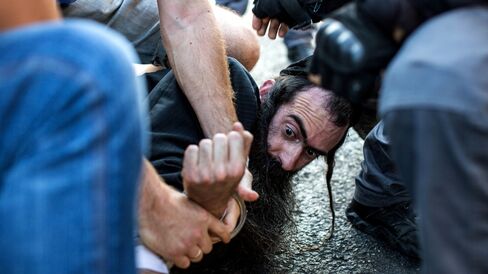 Israeli Prime Minister Benjamin Netanyahu and Defense Minister Moshe Ya'alon support tougher measures against Jewish extremists after two violent incidents last week, including an arson attack that killed a Palestinian toddler.
One step is administration detention, which allows authorities to hold suspects for extended periods without charge, officials said on condition of anonymity to discuss policy deliberations. That measure, which has been criticized by civil rights advocates, has been primarily used in Israel against suspected Palestinian militants.
"We recently witnessed two abhorrent crimes," Netanyahu told his cabinet Sunday, referring to last week's stabbing attack on marchers at a Jerusalem Gay Pride parade, and the firebombing of a West Bank home that killed the Palestinian child and critically wounded four other family members.
"I have instructed security and law-enforcement officials to use all legal means at their disposal to apprehend the murderers and deal with the stabber and the arsonists to the fullest extent of the law," Netanyahu said.
A government official, who wasn't authorized to speak on record, said those means include the use of administrative detention. The prime minister has defined the firebombing as a terrorist attack, the official said.
Ya'alon has also informed the Shin Bet intelligence agency that he approves using administrative detention to crack down on suspected nationalist extremists, according to a second official.
Before it's here, it's on the Bloomberg Terminal.
LEARN MORE