Europe's ABS Market Pays Tribute to Credit Suisse Crash Pilot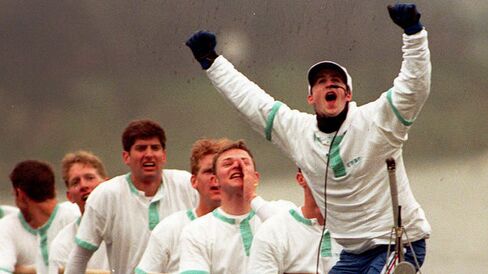 Europe's securitization market paid tribute to Kevin Whyman Monday after Credit Suisse Group AG's head of European asset-backed securities sales died in a plane crash at a British car show on Saturday.
Described as a down-to-earth over-achiever by his colleagues and clients, Whyman, 39, juggled a job marketing bonds backed by loans with family life and flying. His career tracked the rise and fall of a market the European Central Bank is promoting to boost growth in the region.
"He was always warm and genuine and really happy, which you don't always come across in this industry," said Jenna Collins, who works in BlueCrest Capital Management LLP's ABS team and spoke in a personal capacity as a friend of Whyman. "He was so proud of his family and he truly loved flying."
Whyman, a former pilot with the Royal Air Force, was taking part in an aerial display in Cheshire for CarFest. He was a director at Heritage Aircraft Ltd., which operates the jet fighter Gnat Display Team, according to the U.K. company registry. He was married with a young daughter.
"He was just instantly likable," said Patrick Janssen, an ABS money manager at Prudential Plc's M&G unit in London. "He always came across as a cheerful person with interesting stories and a positive attitude."
Apart from a brief stint at Lehman Brothers Holdings Inc. between 2004 and 2005, Whyman spent most of his career at Credit Suisse.
'Good Friend'
"We are deeply saddened to learn of the tragic death of Kevin Whyman," Vanessa Neill, a spokeswoman for Credit Suisse, said in an e-mailed statement. "We extend our deepest condolences to Kevin's family and friends."
Whyman originally joined the Swiss lender in 2001 when Europe's ABS market was still in its infancy. The securitization market seized up during the financial crisis after the U.S. subprime mortgage market imploded and is now being promoted by the ECB as a means to boost lending in the region.
"Kev was foremost a good friend and will be sorely missed," said Ali Lumsden, founder of London-based hedge fund East Lodge Capital Partners LLP. "He has been involved in the European ABS market from its early development through a period of rapid growth, and was always a knowledgeable and well-informed proponent of both his product and of Credit Suisse."
Whyman studied economics at Cambridge University and served in the RAF from 1998 to 2001, before becoming an investment banker in London, according to the Gnat Display Team website. Whyman won two Boat Races, the iconic annual university rowing event, in 1996 and 1997 as a cox in the Cambridge crew.
"I met Kevin in early 2000 when he was presented me as a young superstar salesperson, and how right they were," said Stefano Loreti, a partner at Hayfin Capital Management LLP. "I will never forget his optimism, sense of humour and down-to-earth personality."
Before it's here, it's on the Bloomberg Terminal.
LEARN MORE