Australian House Speaker Resigns After Entitlement Scandal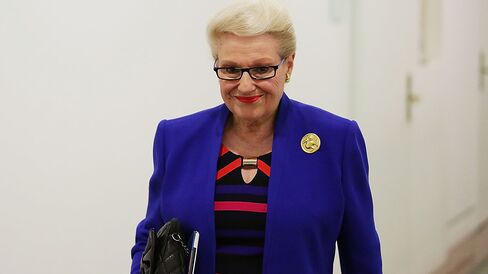 Bronwyn Bishop resigned as speaker of Australia's lower house amid a scandal over her travel expenses as Prime Minister Tony Abbott announced a review into entitlements for all members of parliament.
"I have not taken this decision lightly, however it is because of my love and respect for the institution of the parliament and the Australian people that I have resigned," Bishop, 72, said in a statement Sunday. She has been under pressure after the Department of Finance began probing her use of public funds for a A$5,000 ($3,654) helicopter ride to attend a Liberal Party fundraiser.
The resignation will be seen as a political scalp for the opposition Labor Party, which criticized Bishop for being partisan in her role as enforcer of rules and procedures in parliament. By allowing the issue to dominate media headlines for the past three weeks, questions may be raised again about Abbott's political acumen six months after he survived a challenge to his leadership, said political analyst John Warhurst.
"You worry about Abbott's judgment in allowing Bishop to hang on for so long when the national mood was against it," said Warhurst of the Australian National University in Canberra. "It seems to reflect a trend of being unwilling to recognize the political reality."
Entitlement Reform
Bishop has denied any wrongdoing amid allegations she also claimed travel allowances to attend weddings; last month she said she would repay the money and she has apologized for using the funds for the flight. A committee reviewing entitlements will report to the government during the first half of next year, Abbott said Sunday.
"The rules governing the parliamentary entitlements system need reform," Abbott said in an e-mailed statement Sunday. "Some parliamentary travel has been inside entitlement but outside community expectations. The rules lack clarity and lack transparency."
The speaker's role is central to the smooth order of business and debate in the House of Representatives, according to parliament's website. "Members are entitled to expect that, even though the speaker belongs to and is nominated to the position by a political party, his or her functions will be carried out impartially," it states.
Senior Labor lawmaker Anthony Albanese said in June that since the September 2013 election, Bishop had ejected Labor members 393 times and coalition MPs just seven times.
After first being elected to the Senate in 1987, Bishop has been a member of the lower house since 1994 and served as a minister in former Prime Minister John Howard's government.
Polls Lag
Abbott's Liberal-National coalition government trails Labor in the polls ahead of the next election, which must be called by the end of next year.
The government has made little traction in the polls since Abbott in February fended off a leadership challenge from his own Liberal Party lawmakers over questions about his political judgment, including introducing unflagged government spending cuts and knighting the U.K.'s Prince Philip.
"Abbott has consolidated his position since the challenge but he wouldn't want the coalition to lose any more ground in the polls," said Warhurst. "There may be rumbles about his leadership again and he doesn't have a lot of slack."
Before it's here, it's on the Bloomberg Terminal.
LEARN MORE