Zimbabwe Seeks Extradition of Cecil the Lion's U.S. Killer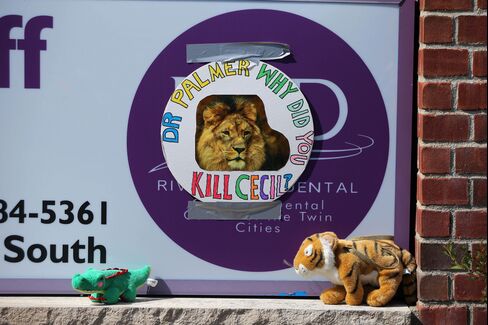 Zimbabwe has requested the extradition of an American dentist, Walter Palmer, to face poaching charges after killing a collared lion named Cecil, a government minister said.
"We've instructed the police and prosecutor general to write to the U.S. government seeking the extradition of Palmer," Environment Minister Oppah Muchinguri told reporters in the capital, Harare, on Friday. "We want Palmer to face the full wrath of the law."
Cecil was killed this month outside Hwange National Park in north-western Zimbabwe, where he was a star attraction among tourists. A professional hunter, Theo Bronkhorst, was granted bail of $1,000 after appearing in a court on Wednesday for helping Palmer shoot the lion. The U.S. Fish and Wildlife Service said Thursday it's investigating the incident.
Palmer, from Minnesota, said in a statement to the Star Tribune this week that he thought the hunt was legal and he didn't know the animal was collared. Palmer said he would cooperate with the U.S. and Zimbabwean authorities.
Cecil's death provoked global outrage with animal-rights groups calling for trophy hunting to be banned and Palmer receiving death threats through social media.
Zimbabwe has 2,000 lions and is allowing 70 to be hunted this year, according to the country's Parks and Wildlife Management Authority. Cecil had been collared and monitored as part of an Oxford University research project.
The lion, who was killed after being shot with a bow and arrow, wasn't listed on a hunting permit, according to court documents. The hunt hadn't been authorized by the Gwaii Valley Farmers' Association, which is in charge of all hunting in the area, the group said in an e-mailed statement.
Read this next:
Before it's here, it's on the Bloomberg Terminal.
LEARN MORE