Why DiCaprio's Buddy Couldn't Make It as a Hollywood Mogul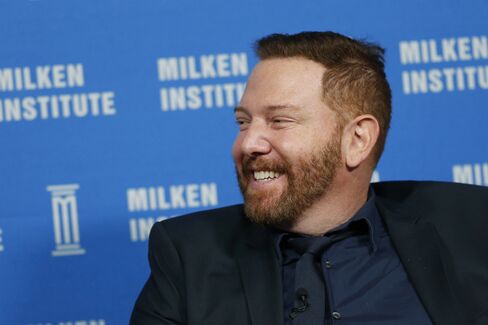 Ryan Kavanaugh knew how to do the one thing that matters in Hollywood: raise money. Just not enough of it.
For many of the 11 years that his Relativity Media LLC made and financed movies -- long before its bankruptcy protection filing Thursday -- the 40-year-old was a celebrity whiz-kid in the business. Married to a Sports Illustrated swimsuit model, photographed partying with Bradley Cooper, famous (and mocked) for flying a helicopter to work, Kavanaugh tapped investors from Ron Burkle to Steven Mnuchin to Paul Singer.
The splash Kavanaugh made when he first showed up with his spiky red hair and colorful sneakers was big, because he came with private-equity deals that helped make some good films, including "The Social Network." He captured attention for how Relativity made its picks, not by evaluating a script or director but using the Monte Carlo method, a statistical analysis of variables like a genre or actors' track records.
But Relativity had more box-office misses than hits, and never came close to the initial public offering Kavanaugh boasted it was preparing. He wasn't able to make himself into a mogul, or transform the way the industry makes movies.
"This young gun comes along and he gives this indication that with modeling he is going to fix the inefficiencies of Hollywood," said Robert Thompson, head of Syracuse University's Bleier Center for Television and Popular Culture. He learned that "show business does not yield its secrets to science."
Six days before Relativity sought protection from creditors, a lender sued, calling Kavanaugh a "con man." The day before, the studio began laying off staff, and he sold his Malibu house for $8.7 million.
Costner Bomb
Kavanaugh's skill at finding money for movies wasn't enough. To have staying power -- and pay the bills -- he needed to churn out winners. While "Limitless," starring Cooper, was a success that generated $162 million at the global box office in 2011, it was part of a slate that included the bombs "Out of the Furnace" with Christian Bale and "3 Days to Kill" with Kevin Costner, whose ticket sales didn't cover their costs.
There were too many instances like that. Relativity and its affiliates filed Chapter 11 documents listing liabilities of $1.1 billion, book-value assets of $560 million and creditors including the designer Alexander Wang. At Relativity, spokesman David Shane said Kavanaugh wasn't available for an interview.
He "clearly early on had money to make movies. You can win a lot of friends that way," said Joe Pichirallo of New York University's Tisch School of the Arts and a former 20th Century Fox executive. But "he never hit home runs at the level that would allow people to think he did have a knack for making movies that were financially successful."
Ultimates-Loan Creditor
Mnuchin, who until recently was Relativity's non-executive co-chairman, didn't respond to a request for comment. The OneWest Bank founder and former Goldman Sachs Group Inc. partner, who helped back "Avatar" and "Gravity," acquired a stake in Relativity in 2014, teaming up with Kavanaugh and a few others to buy what they described as "significant ownership" of the studio's debt and equity from the hedge fund Elliott Management Corp. OneWest, now owned by CIT Group Inc., is listed in the bankruptcy filing as a creditor, among the banks owed $27.8 million from a so-called ultimates loan, which is secured by film cash flows from theatrical releases to DVD receipts.
Elliott first put money into Relativity in 2008. Singer, Elliott's founder, also didn't respond to a request for comment. Nor did Burkle, the billionaire co-founder and managing partner of Yucaipa Cos. who has invested hundreds of millions of dollars in Kavanaugh ventures, buying a Relativity stake from Elliott in 2012 and lending money to the studio.
'Larger-Than-Life'
Burkle is a Relativity board member, according to the bankruptcy filing, which doesn't list him among the creditors.
Relativity's public unraveling began on May 20, when an ad agency sued, claiming it hadn't been paid. The studio wrote a $401,000 check that day. It also rescheduled its films, with "Before I Wake" pushed to September from May, for example, and "The Bronze" to October from July. In June, Kavanaugh hired Blackstone Group to help refinance its debt.
On July 17, Mnuchin's OneWest removed $18 million from Relativity accounts. The suit by lender RKA Film Financing LLC came on July 24, with the "con man" claim, alleging Kavanaugh used a restricted $75 million loan for salaries and bonuses instead of advertising and marketing. The studio countersued.
Senior lenders will act as the initial bidders in a bankruptcy court-supervised auction of Relativity. They include Anchorage Capital LLC, which owns a stake in MGM, according to the Wall Street Journal.
The Hollywood trade and celebrity press have followed Kavanaugh closely. Cooper and Leonardo DiCaprio threw the bachelor party before his first wedding in 2011. His second four months ago made it into People magazine; guests included Ryan Seacrest and Katie Holmes.
Now "people are so focused on his demise," Pichirallo said. "He clearly was a very flamboyant, larger-than-life character, a very good showman, and that showman skill is very helpful" in the movie business.
"These people come into Hollywood all the time. He lasted a lot longer than other people like him."
Before it's here, it's on the Bloomberg Terminal.
LEARN MORE