What's in a Date? Everything, as Xi Uses Power of Symbolism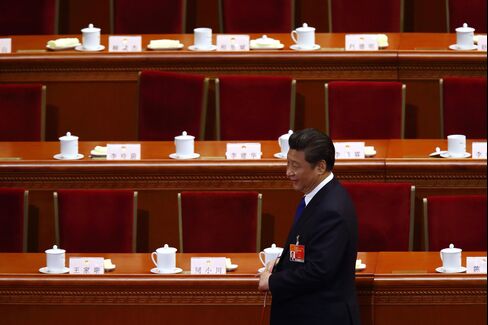 Xi Jinping never forgets an anniversary.
The Chinese president found the perfect occasion to purge the country's former top general from the ruling Communist Party and cement his control over the world's largest military. He expelled Guo Boxiong on Thursday, ensuring the news sank in by Saturday, when the People's Liberation Army celebrates its 88th birthday. All the better that "88" is an auspicious number in Chinese culture.
The episode illustrates the importance of symbolism in China's opaque one-party state. With a political culture that shuns straight talk and open debate, leaders often rely on dates, settings and other contextual clues to convey their message and demonstrate their control over the levers of power.
Xi, as the "princeling" son of a party revolutionary, has shown a zeal for the practice during almost three years in power. Guo's expulsion over corruption allegations follows a similar gesture last year when another top general, Xu Caihou, was removed from the party just before July 1, the anniversary of the party's founding in 1921.
"Xi has been waiting for an opportunistic moment that would work best for this big announcement" said Willy Lam, whose book "Chinese Politics in the Era of Xi Jinping" was published in March. "He has a knack for using symbolism to demonstrate his power and control. He's got a track record that can show he can always find the right symbols to convey his political message."
Xi's campaign against graft, in which the president has pledged to root out lowly "flies" as well as powerful "tigers," has provided a regular showcase for such symbolism.
Tiger Hunter
Authorities announced their probe into ex-security tsar, Zhou Yongkang -- the most powerful official brought down by Xi - - on July 29 last year, or Global Tiger Day. Zhou was briefly detained in the small Shandong province town of Yanggu, the legendary home of hero Wu Song, who defeated a tiger in an ancient Chinese tale.
The investigation into Ling Jihua -- the former chief of staff to ex-President Hu Jintao -- was made public on Dec. 22, the closing day of a historic Central Committee gathering in 1978, when Deng Xiaoping began the reforms that opened up the Chinese economy.
With little official comment to connect the dots, observers are left to wonder whether such coincidences are intentional.
Dates and settings are often a Communist Party signal to pay attention to what would otherwise seem to be unimportant official events. In 1966, Mao Zedong famously demonstrated his vigor with a swim across the Yangtze River -- China's traditional north-south dividing line -- before ending a long absence from Beijing and launching the Cultural Revolution.
Channeling Mao
Xi has often reached back to the party's Great Helmsman while pushing his own agenda. When he assembled 72 top artists and authors last October and urged them to promote "socialist core values,'' the format carried a greater meaning: It resembled a similar conference by Mao in 1942 that marked the start of the party's efforts to shape China's ideology.
''Xi has a fondness for ritualism and likes ceremonies, especially prominent events, settings or anniversaries that evoke memories of the party's glorious past,'' said Zhang Lifan, a Beijing-based historian. ''That's similar to Mao, who also talked and operated with double meanings and multiple connotations.''
The military has been a key focus of Xi's effort to consolidate power, and he has repeatedly used PLA history to support his agenda. In October, he picked the one-time revolutionary base of Gutian, in Fujian province, where the party established control over the army in 1929, to emphasize the ''absolute leadership of the party over the army.''
Xi, as chairman of the Central Military Commission, on Friday promoted 10 senior officers to general, the highest military rank in China. Xi presided over the promotion ceremony, presenting the officers with certificates of command, according to Xinhua.
'Knockout Blow'
Guo's removal was one occasion on which authorities left little doubt about the symbolism of the date. While rumors of the investigation had circulated for months, a commentary published on the military's official website Thursday night stressed the importance of announcement's timing.
''We're about to mark the glorious and sacred PLA Day," it said. "At this special time, the party leadership struck out again and delivered a knockout blow with the decision to expel Guo Boxiong from the party."
Xi is a member of a generation of party elite who grew up during the Cultural Revolution and have internalized party history. By using it to frame his agenda, he elevates his own standing in people's eyes, Zhang said.
"Xi wants to deliver a message that he is one wise ruler the public can trust, despite there being lots of corrupt officials in the system," he said.
— With assistance by Ting Shi, and Keith Zhai
Before it's here, it's on the Bloomberg Terminal.
LEARN MORE