Seahawks Quarterback Wilson Signs $87.6 Million Contract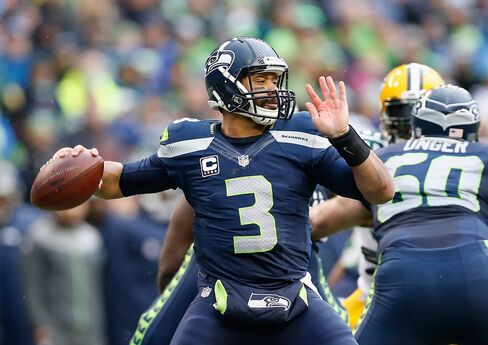 Wilson helped guide Seattle to Super Bowl the past two years

Wilson had a $662,000 base salary last season with Seahawks
Quarterback Russell Wilson said he's re-signed with the Seattle Seahawks for four more years, getting a new contract that NFL.com says is worth $87.6 million and includes $60 million in guaranteed money.
Wilson, 26, has a 42-14 record as the Seahawks' starting quarterback over his three National Football League seasons. He helped guide the franchise to Super Bowl appearances the past two years, including a championship after the 2013 season. He threw a goal-line interception in the final minute of February's 28-24 title game loss to New England.
"Blessed to be w/ this organization for 4 more years! Can't wait to get on field w/ the fellas!" Wilson said on Twitter, adding the hashtag "ChampionshipMindset."
Wilson had a $662,000 base salary last season under his original four-year, $3 million rookie contract. He was set to make $1.54 million this season and the two sides agreed to the new deal before the team's first training camp practice on Friday.
Wilson has led 15 game-winning drives in fourth quarter and overtime since entering the NFL in 2012, the most of any quarterback over that stretch.
At almost $22 million, the average annual value of Wilson's contract puts him on the level of Green Bay Packers quarterback Aaron Rodgers, who in 2013 signed a five-year, $110 million deal. Ben Roethlisberger of the Pittsburgh Steelers has a contract that averages $21.85 million a year, while Cam Newton of the Carolina Panthers has a deal with an average value of $20.76 million, just ahead of Matt Ryan of the Atlanta Falcons ($20.75 million average).
Before it's here, it's on the Bloomberg Terminal.
LEARN MORE