Lloyds Takes $2.2 Billion Provision, Clouding Dividend Prospects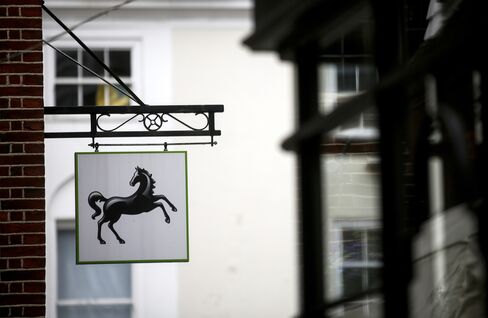 Lloyds Banking Group Plc took a larger-than expected 1.4 billion-pound ($2.2 billion) charge for improperly sold loan insurance, threatening to undermine dividend plans.
The latest provision was 400 million pounds higher than what analysts at Sanford C. Bernstein and Morgan Stanley estimated, pushing the total set aside to 13.4 billion pounds, a record among British lenders. First-half pretax profit rose 38 percent to 1.2 billion pounds from a year ago, missing analyst estimates of 1.9 billion pounds compiled by the company.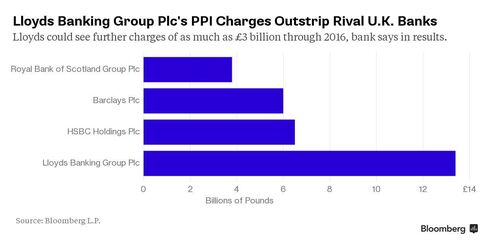 Chief Executive Officer Antonio Horta-Osorio, 51, is considering special payouts or share buybacks as the government prepares to sell a 15 percent stake in the lender. While the CEO has cut jobs and sold assets to return Britain's largest mortgage lender to profit, his plans may be undermined by increasing costs for wrongly sold payment protection insurance.
"The 1.4 billion in additional PPI provisions concerns us," said Sandy Chen, an analyst at Cenkos Securities Plc in London. "Management is helpful in outlining that if their estimates on complaints resolution trends are wrong again, there could be another 1 billion-pound in charges in the second half of 2015 and 1 billion pounds each half in 2016."
Lloyds will pay an interim dividend of 0.75 pence a share, it said in a statement on Friday, when reporting first-half earnings. That's unchanged from its first payout to shareholders since taking a bailout in the financial crisis.
Lloyds Capital
The shares fell 0.6 percent to 85.49 pence at 9:53 a.m. in London. They have gained about 13 percent this year, giving the bank a market value of 61 billion pounds.
Unlike Royal Bank of Scotland Group Plc, which hasn't paid a dividend since its bailout, Lloyds is still generating more capital than regulators require it to hold against assets, bolstered by lower costs and falling bad-loan charges.
Lloyds's common equity Tier 1 capital ratio, a measure of financial strength, fell to 13.3 percent from 13.4 percent at the end of March. The bank will consider special buybacks if the measure remains greater than 13 percent, Chief Financial Officer George Culmer said on a call with journalists.
Some analysts expected a bigger interim dividend.
"The payout for the half disappointed," said Chirantan Barua, a banking analyst at Sanford C. Bernstein, with a market perform on Lloyds shares."We don't see any excitement around the guidance. Relative to expectations, we see today's release as marginally negative."
PPI Costs
The net interest margin, a measure of profitability, fell to 2.62 percent from 2.65 percent at the end of March. The bank set a new target of 2.6 percent for this year.
Other lenders are also plagued by rising PPI costs. Barclays Plc set aside 600 million pounds in the second quarter, as it reported earnings in line with analysts. The industry has paid more than 20 billion pounds in the costliest scandal since the financial crisis.
"How long do things keep getting in the way?" said Eric Moore, a fund manager at Miton Group who helps to oversee about 2 billion pounds of assets including Lloyds shares, commenting on PPI. "The hope is we don't have the provisions any more and that money comes the way of shareholders instead."
Profit excluding one-time items and legacy conduct costs rose 15 percent to 4.4 billion pounds in the first half from the year earlier period. That beat the average analyst estimate of 4 billion pounds compiled by the bank.
The bank's loan impairment charge fell 75 percent to 179 million pounds from a year earlier. Lloyds's cost-income ratio was 48.3 percent, down from 49 percent.
"The additional provision for payment protection insurance is disappointing" Horta-Osorio said. "Rebuilding customer trust remains key."
Read this next:
Before it's here, it's on the Bloomberg Terminal.
LEARN MORE