Last Time Unemployment Rose This Much, Norway Cut Rates
What will tip policy makers to act on a rate-cut signal?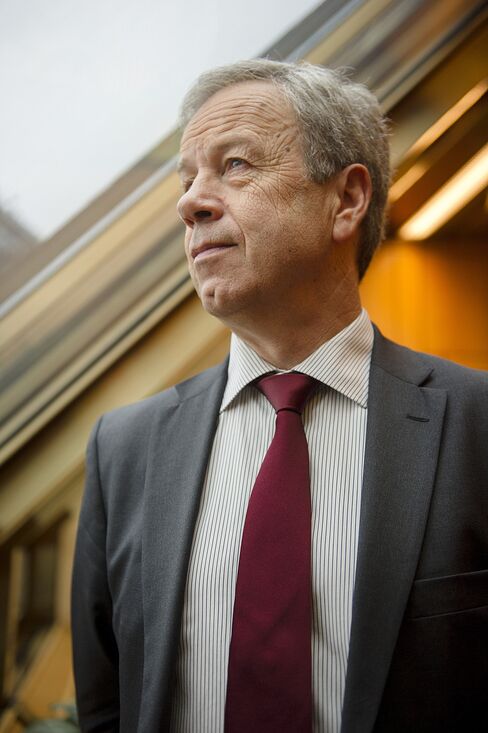 If Norway's central bank is consistent, it will cut rates at its next meeting. That's what it's done every time unemployment rose as much as it did this month.
Unemployment at 3.1 percent probably wouldn't ruffle the feathers of policy makers in the U.S., Greece, Spain (or countless struggling economies). But we're talking about a nation of 5.2 million people, so small that while it was becoming western Europe's biggest oil producer, it had to import skilled labor from outside to help dig up all its petroleum.
Now, Brent crude is about $12 lower than last month, when Norges Bank signaled as much as a 70 percent chance of another cut this ``autumn.''
Unemployment in July reached the highest level in more than four years, according to data released Friday by the Norwegian Labor and Welfare Administration. The level of unemployment rose by 2,500 people, the biggest jump since April 2009.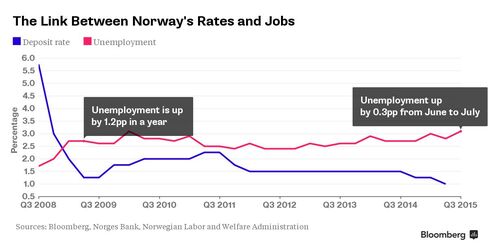 Back then, Norges Bank slashed rates by 50bp to 1.5 percent, marking its sixth cut since Lehman Brothers collapsed the previous year.
Some say the latest jobless data adds to the growing case for a rate cut.
``Ripple effects from the downturn in oil and gas are increasingly affecting the broader economy,'' said Kari Due-Andresen, chief economist at Svenska Handlesbanken AB. Deterioration in the labor market points to a cut in September, she said.
But not everyone is convinced.
First of all, the weak oil price has driven the Norwegian krone down about 10 percent over the last year, making it the worst performer in a Bloomberg Correlation Weighted Index of 10 currencies. That is enough to save the bank from having to cut rates to a record low at a time when high private debt and an overheated housing market are threatening financial stability, according to Danske Bank A/S.
On top of that, analysts at SEB AB say unemployment data show ``limited deterioration beyond counties most dependent'' on oil. Add to that a short-term momentum in employment, and the picture is less than ``clear-cut,'' they say.
Before it's here, it's on the Bloomberg Terminal.
LEARN MORE