Italian Youth Unemployment Rises to its Highest Level Ever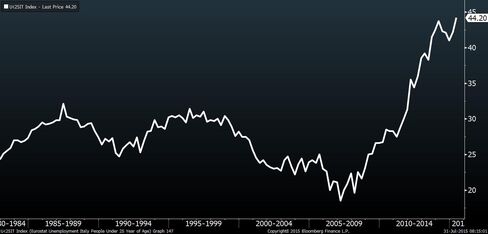 Italy's jobless rate unexpectedly rose in June as businesses continue to dimiss workers amid concerns that the country's exit from recession may not be sustainable. Youth unemployment jumped to a record-high 44.2 percent.
Unemployment increased to 12.7 percent from a revised 12.5 percent in May, statistics agency Istat said in a preliminary report in Rome on Friday. The median estimate in a survey of nine analysts called for a rate of 12.3 percent.
Youth unemployment in June rose to the highest rate since the series began in 2004, from 42.4 percent in May. Employment dropped for a second month in a row, with about 22,000 jobs lost in June alone, according to the report.
Joblessness in the euro area's third-largest economy has been at 12 percent or above for more than two years as the record slump deepened before gross domestic product started to rise again at the end of 2014. On Monday, the International Monetary Fund said in a report that "without a significant pick-up in growth," it would take Italy "nearly 20 years to reduce the unemployment rate to pre-crisis" levels of about half the current one.
Prime Minister Matteo Renzi's changes to Italy's labor code showed early results as the number of open-ended contracts taking effect in the first half increased, the government said. Still, executives' confidence declined this month amid doubts on the outlook for economic recovery and employment.
Telecom Italia SpA said this month it plans to eliminate 1,700 jobs, representing about 3 percent of its workforce, and is delaying a youth-hiring program as Italy's biggest phone company seeks to reduce labor costs.
Before it's here, it's on the Bloomberg Terminal.
LEARN MORE