Hope Glimmers for Penny-Pinching Miners Buffeted by Gold Rout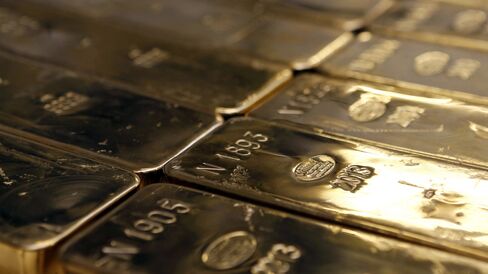 Gold miners battered by the biggest metal-price slump in two years are responding by strengthening their balance sheets and eventually will be rewarded by investors, according to North America's most valuable producer.
"We, as an industry, have done a really good job of trying to shore up those margins - some better than others because some have better assets," Goldcorp Inc. Chief Executive Officer Chuck Jeannes said in a telephone interview.
He spoke from Quebec City on Thursday after Goldcorp reported quarterly profit that beat analysts' estimates. The Vancouver-based company is lowering its dividend by 60 percent as part of a cost-cutting drive that enabled it to become cash-flow positive for the first time in almost three years, and said it could defer projects if prices keep falling.
Goldcorp and peers including Kinross Gold Corp. and Agnico Eagle Mines Ltd. are answering investor calls to preserve cash as gold heads for a 7.7 percent slump this month, the most in two years. Bullion slid 0.6 percent to $1,081.75 an ounce by 10:25 a.m. in London, according to Bloomberg generic pricing, after reaching a five-year low on July 24.
Even as producers batten down the hatches, investors are selling their stocks far more aggressively than gold.
The BI Global Gold Mining Competitive Peers Index has tumbled 25 percent in the past month, with members trading below their book value on average, compared with a ratio as high as 2.4 times four years ago, data compiled by Bloomberg show. Yamana Gold Inc. and Barrick Gold Corp. are among the hardest hit, losing more than 30 percent. Goldcorp is down 16 percent.
Recovery Seen
Eventually, the market will come around, Jeannes said. Short-term investors have all but left the industry, while long-term holders understand its cyclical nature, he said.
"We're in a low part of the cycle now but I'm sure they believe, as I do, that things will turn around," he said. "I've seen it before and we'll start climbing out of this at some point."
Goldcorp has been focused on driving down costs and bringing on new mines with high margins, Michael Gray, a Vancouver-based analyst at Macquarie, said by telephone. "They are reasonably well-positioned to weather the storm."
Agnico, based in Toronto, lowered its cost guidance by a further $10 an ounce in the second quarter, reduced its debt and maintained its 2015 production target. Vancouver-based Eldorado Gold Corp. also lowered its cost forecast.
Forex Relief
Canadian producers with significant local operations are getting some price relief from an 11 percent decline in the currency against the U.S. dollar this year, according to Barry Allan, an analyst at Mackie Research Capital Corp.
Others, like Barrick and Newmont Mining Corp., have significant U.S. operations and a weaker outlook, he said by telephone on Thursday. Hours later, Barrick announced the sale of 50 percent of a Chilean copper mine, bringing debt reduction to nearly two thirds of its $3 billion target this year.
The meltdown means the price of gold is approaching the cost of production, which signals buying opportunities, said Douglas Groh, who helps manage $1.9 billion in gold and other precious metal investments at Tocqueville Asset Management LP.
"Valuations are probably the lowest they've been in 15 years for these mining companies," Groh, whose holdings include Detour Gold Corp. and Goldcorp, said by telephone. "Clearly they are taking it on the chin and the market is anticipating the worst."
Before it's here, it's on the Bloomberg Terminal.
LEARN MORE