Hedge Funds Boost Bullish Treasury Futures Bets to Two-Year High
Plunge in oil prices lower inflation outlook
As oil prices tanked, hedge-fund managers and other large speculators increased bullish bets on Treasury securities to the most in two years, even as the Federal Reserve moves closer to raising interest rates.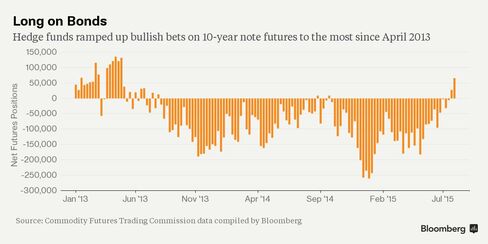 ``It's a low-inflation environment,'' said Larry Milstein, managing director in New York of government-debt trading at R.W. Pressprich & Co. There's no ``gangbusters growth here and there's slow growth overseas.''
Speculative positions, or bets prices will rise, outnumbered short positions by 65,642 contracts as of July 28, according to data from the Commodity Futures Trading Commission released Friday. The figure was the most net-long positions since April 2013. Last week, traders were net-long 27,400 contracts, reversing a short position they held since September.
Before it's here, it's on the Bloomberg Terminal.
LEARN MORE