Facebook's Zuckerberg Says Wife Priscilla Pregnant With a Girl
Mark Zuckerberg, the 31-year-old billionaire co-founder of Facebook Inc., said he and his wife, Priscilla Chan, 30, are expecting a baby girl.
The couple had been trying for years and experienced three miscarriages, Zuckerberg said in a post on his Facebook page. It was a lonely experience -- one he wanted to share in order to give others hope for their own healthy babies, he said.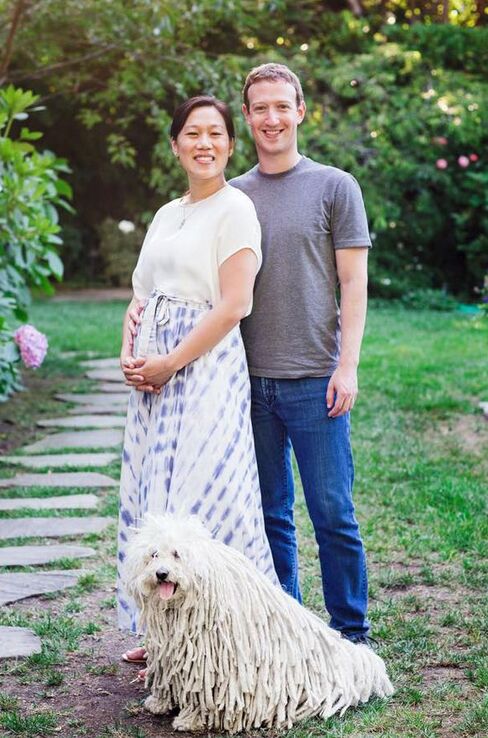 "We've already been so fortunate for the opportunity to touch people's lives around the world -- Cilla as a doctor and educator, and me through this community and philanthropy," Facebook's chief executive officer wrote in the post. "Now we'll focus on making the world a better place for our child and the next generation."
Zuckerberg, who married Chan in a secret wedding just after Facebook's initial public offering, has become more open about his personal life. In the last year, he started doing public question-and-answer sessions where he accepted queries not only about Facebook, but about his dog, Beast, and why he always wears a grey shirt. Zuckerberg's net worth is $41.7 billion, according to the Bloomberg Billionaires Index.
Many people don't discuss miscarriages out of fear it will distance them from others or reflect poorly upon themselves, "as if you are defective or did something to cause this," Zuckerberg said.
Among women who know they're pregnant, as many as 1 in 5 pregnancies end in miscarriage in the first 20 weeks of pregnancy, with most occurring in the first seven, according to the National Institutes of Health.
"In today's open and connected world, discussing these issues doesn't distance us; it brings us together," Zuckerberg said. "It creates understanding and tolerance, and it gives us hope."
Before it's here, it's on the Bloomberg Terminal.
LEARN MORE