Designer Alexander Wang Leaving Balenciaga to Focus on Own Brand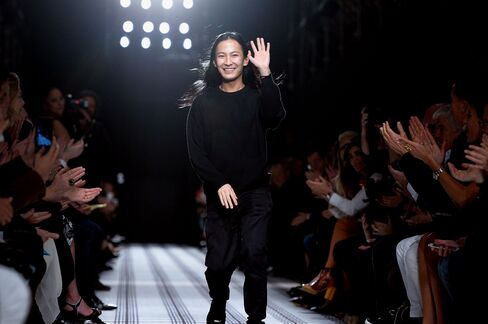 Fashion designer Alexander Wang will leave his role as creative director of the Balenciaga label to concentrate on building his own brand.
Wang, who joined Balenciaga in December 2012, won't renew his contract beyond the initial term, the Kering SA brand said in a statement Friday. His final collection, for spring/summer 2016, will be shown in Paris on Oct. 2, Kering said.
Kering hired Wang to replace Nicolas Ghesquiere, who left to run artistic direction at competitor Louis Vuitton. At the time, the appointment was seen as a move to broaden Balenciaga's appeal as growth slowed at Gucci, Kering's largest label. The management shift at Balenciaga comes on top of Kering's overhaul this year of Gucci's leadership.
Balenciaga, which makes 2,200-euro ($2,400) biker jackets and 545-euro sandals, generated sales of 300 million euros in 2014, or less than 3 percent of Kering's total revenue, analysts at Citigroup Inc. estimate. Kering doesn't break out Balenciaga's results, grouping it with other luxury brands including Alexander McQueen and Stella McCartney.
The label was founded by Cristobal Balenciaga in 1919, established in Paris in 1936 and acquired by Kering in 2001.
Before it's here, it's on the Bloomberg Terminal.
LEARN MORE