Cameron Pledges Dogs, Fences to Solve Calais Migrant Crisis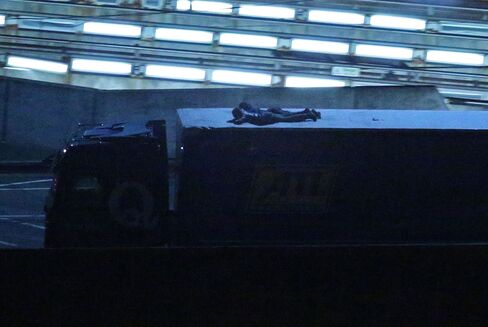 U.K. Prime Minister David Cameron pledged to send additional resources to France to help stop "unacceptable" disruption caused by would-be migrants trying to reach Britain through the Channel Tunnel.
Cameron, who returned to London from a trip to southeast Asia to criticism after describing African immigrants to Europe as "a swarm," presided over a meeting of his government's emergency Cobra committee on Friday to address the escalating crisis.
"We're going to put in more fencing, more resources, more sniffer-dog teams, more assistance in any way we can," Cameron said in televised comments after the meeting. "We're going to do everything we can to reduce the disruption. We rule nothing out in taking action."
Cameron said he will speak with French President Francois Hollande later on Friday as the two governments seek to stop repeated attempts to enter the tunnel by hundreds of people seeking to enter the U.K. French riot police have been deployed to the area around the tunnel terminal in Calais, northern France. Britain has already allocated funding to improve fencing around the entrance to the tunnel, which is currently experiencing its peak travel season for holiday makers.
The government is also exploring if ferry capacity on different routes across the English Channel can be increased, Cameron's office said in a statement.
Operation Stack
Land owned by the Ministry of Defence may be used to help relieve congestion on roads in the U.K., Cameron said. There has been widespread criticism of traffic delays caused by "Operation Stack," under which trucks are parked along the M20 motorway in Kent, southeast of London, as they wait for hours for access to the tunnel's northern entrance.
Groupe Eurotunnel SE, the operator of the cross-channel link, which appealed for help from the French and British governments earlier this week, welcomed Cameron's announcement in an e-mailed statement. French Prime Minister Manuel Valls said his government is in constant contact with the U.K. about Calais.
"It's important the contribution of the British government is made, both financially and in other ways," Valls told reporters in Paris.
One would-be migrant was killed when he was crushed by a truck on Tuesday, and there have been calls from some British politicians to send U.K. troops to Calais to assist French police.
'Short-Term Relief'
Cameron's latest moves "will at best provide some short-term relief," Jan Semmelroggen, who teaches at Nottingham Trent University and specializes in migration policy, said in an e-mail. "Even if the Anglo-French authorities and the Eurotunnel operators manage to maintain a military-style security perimeter around the Eurotunnel terminal in Calais, it will not alleviate the continued migration pressure to Britain."
U.K. opposition leaders accused the premier of making dehumanizing remarks about migrants on Thursday after he referred to "a swarm" of them traveling to Europe from North Africa.
"He should remember he's talking about people, not insects," Harriet Harman, the acting head of the main opposition Labour Party, told Sky News television. "He's been warned about this for months; just using inflammatory language isn't going to help."
Read this next:
Before it's here, it's on the Bloomberg Terminal.
LEARN MORE