Bikers, Boaters and Big Oil Unite in Fight Against U.S. Biofuels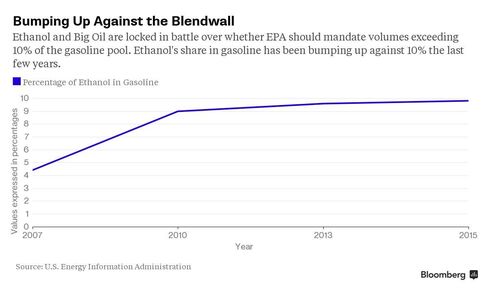 Count bikers, boaters and, to hear some say, even God, among those who oppose the U.S. law that forces refiners to use corn to make gasoline.
In more than 413,000 public comments to the Environmental Protection Agency, ethanol opponents are battling it out with big oil producers and farmers in a bid to reshape the 2007 law. The agency, which in May proposed lowering the amount of ethanol refiners must use in gasoline, is expected to release final targets Nov. 30.
The plan drew passionate responses from both sides.
"If God meant corn to be used for fuel he would have made it flammable in its natural state," said Kathleen Baker of Clarkston, Washington, one of at least 23 people who invoked the Holy Spirit in comments to the EPA.
Tom Morgan, from Mondamin, Iowa, wrote that the ethanol mandate helps to defund "terrorists," by reducing dependence on foreign oil. Pal Ray took aim at government intervention in the fuel markets.
"The stupid government is subsidizing production using our food crops," Ray wrote.
In May, the EPA, in a long-delayed announcement, proposed lowering the amount of ethanol to be used this year to 13.4 billion gallons and to 14 billion in 2016, less than the 15 billion required under the 2007 Energy Independence and Security Act.
That was good news to recreational boat owners and motorcycle riders who wrote EPA Administrator Gina McCarthy saying the law's Renewable Fuels Standard would increase the total concentration of ethanol in gasoline beyond 10 percent, a level that could damage their engines. They have joined ranks with bar owners, a household cleaning lobby and environmentalists who say ethanol raises food prices.
Motorcycle Woes
Mark Petit, from Yakima, Washington, told EPA that his Honda Valkyrie motorcycle gets fewer miles to the gallon on ethanol-laced gasoline and that the U.S. should simply "eliminate the RFS mandate."
Valero Energy Corp., the biggest U.S. refiner and third-largest ethanol producer, agreed. The San Antonio-based company is pushing EPA to overhaul the program to better reflect how motor fuel makes its way to filling stations.
Ethanol supporters, like the Renewable Fuels Association and Growth Energy, Washington-based trade groups, say EPA's proposal undercuts the industry's future and that targets should not be eased. The American Petroleum Institute and the American Fuel and Petrochemical Manufacturers, which represent oil producers and refiners, say the EPA didn't go far enough in reducing the requirements.
Farmers who grow corn and other feedstocks for biofuels say the program has been a growth engine for the rural economies and has helped the environment by reducing smog.
Big Oil
"As ethanol producers, traders and marketers, we believe that the original goals of the RFS are reasonable and within reach," Archer-Daniels-Midland Co., the second-biggest U.S. ethanol maker, said in comment to the agency.
Todd Becker, chief executive officer of ethanol producer Green Plains Renewable Energy Inc., said the biofuel's opponents have fallen for Big Oil's public relations campaign.
"Use reverse logic," Becker said in an interview. "You're mandated to use 90 percent gasoline. You're being held hostage."
The public comment period on the proposal ended July 27.
Before it's here, it's on the Bloomberg Terminal.
LEARN MORE