South African Bonds Still Enticing Foreign Investors Wary of Fed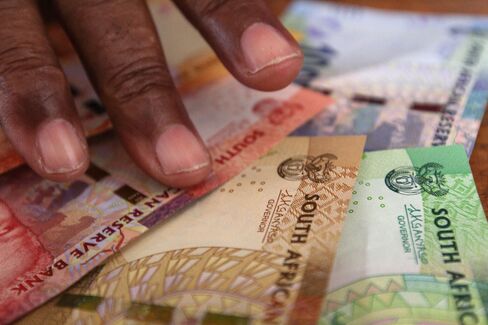 South African bonds are up against quickening inflation, rising interest rates and the prospect of a Federal Reserve rate increase. That's not deterring offshore investors.
South African rand debt attracted the largest inflows in July out of eight emerging markets including Russia, Turkey and Poland, according to data compiled by Bloomberg. Foreigners bought a net $600 million of the nation's bonds in the month, the most since April, the data show.
Benchmark yields have climbed 120 basis points since January, making them the fourth-highest among emerging-markets tracked by Bloomberg indexes. The sell-off pushed yields to a level where they compensate investors for the risk of a Fed rate increase, which would draw money to the dollar, as well as prompting a tightening by the South African Reserve Bank as inflation accelerates, according to Pioneer Investment Management Ltd.
"We increased positions in the last three months," Hakan Aksoy, a portfolio manager at Pioneer, which oversees $244 billion, said by phone from London. "If there's another sell-off, we would like to increase duration risk" in South African debt, provided the Fed doesn't exceed expectations for rate increases this year, he said.
Economists project a 50 percent chance the Fed will start with interest rate increases at its September meeting, according to the median probability of 46 economists in a Bloomberg News survey. Almost half the economists said the policy rate, currently near-zero, will end the year in a range of 0.5 percent to 0.75 percent.
Clear Signal
South African bonds could benefit if the Fed proceeds more cautiously, said Aksoy, who favors maturities from five to 15 years. Fed policy makers on Wednesday said the labor market and housing have improved, moving closer to ending an unprecedented period of near-zero interest rates, without providing a clear signal on the timing.
"We are expecting a relatively slower rate hike process from the Fed," Aksoy said. In that case, "South Africa will benefit more than the other emerging-market countries" as the bonds have sold off more than most peers.
Yields on benchmark securities due December 2026 climbed 2 basis points to 8.27 percent by 4 p.m in Johannesburg, the highest since July 7. The rand strengthened 0.7 percent to 12.6151 per dollar after slumping 1.3 percent on Thursday to a record low close.
Step Ahead
A weakening currency, rising inflation expectations and a desire to stay a step ahead of the Fed were among reasons cited by South African Reserve Bank Governor Lesetja Kganyago when he raised the policy rate for the first time in a year last week, to 6 percent from 5.75 percent.
The consumer inflation rate, which rose for a fourth month in June to 4.7 percent, is forecast by the central bank to peak at 6.9 percent in the first quarter of next year, and remain outside the 3 percent to 6 percent target for two quarters. The government projects the economy will grow 2 percent this year, after expanding 1.5 percent in 2014, the slowest pace since the 2009 recession.
The low growth rate means a steep rate-hike cycle is unlikely, said Jonathan Myerson, head of fixed-income investments at Cadiz Asset Management Ltd. in Cape Town. That makes longer-maturity bonds attractive at current yields, he said.
"The value is there," Myerson said by phone on Thursday. "I certainly wouldn't be running away from them. I would, if anything, be adding to my positions."
Before it's here, it's on the Bloomberg Terminal.
LEARN MORE