SoftBank's Venture Advantage: 'We Don't Have a Gun at Our Head'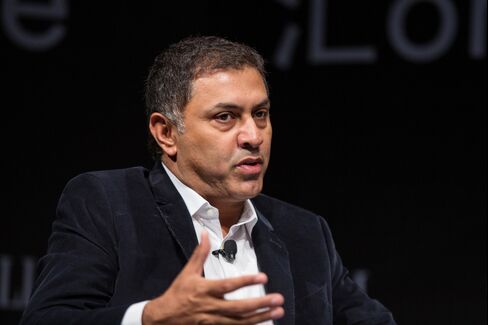 SoftBank Group Corp. President Nikesh Arora said the company is developing a new model for investing in technology startups aimed at helping create more hits like Alibaba Group Holding Ltd.
With so much competition in venture capital, the Tokyo-based company is shifting its focus to larger, longer-term deals where it sees a competitive advantage. SoftBank can write checks for $100 million to $500 million, or even $1 billion, and then wait a decade or longer for returns, he said.
"We're a new breed of investor," Arora said in an interview in Hong Kong. "We're permanent capital, which is not a term we use in the industry right now because all capital is transitory."
Arora joined SoftBank last year and became the heir apparent to founder Masayoshi Son with his promotion to president in June. SoftBank, which started as a software distributor and then wireless carrier, has evolved into an investment and holding company with stakes in more than 1,000 startups.
SoftBank has an advantage over traditional venture-capital firms because most VC funds have 10-year lifespans, meaning they typically have to invest money and get it out within that timeframe, Arora said. SoftBank can make an investment without any pressure to exit, he said.
In the case of Alibaba, Son invested $20 million in 2000 and waited 14 years for the initial public offering last year. The stake is now worth more than $60 billion.
"We don't have to go give the money back," Arora said. "We don't have a time horizon and a gun at our head that says you've got to create a return in five years, seven years."
300-Year Plan
Since joining from Google Inc., Arora has cut deals in China, South Korea and his native India. SoftBank led a $627 million investment last year in India's Snapdeal.com, an e-commerce provider similar to Alibaba, and put $1 billion into the Korean e-commerce operator Coupang. The Japanese company has also backed car-hailing applications in China and India.
The valuations for startups are getting "very frothy" in Asia, Arora said at the Converge technology conference, hosted by the Wall Street Journal and f.ounders in Hong Kong. There's an excess of capital chasing deals and driving up valuations.
"I'd say the market is mispricing risk," he said.
Arora said Son, who has talked about having a 300-year plan for his company, is trying to figure out how to make his business model sustainable beyond his own involvement. SoftBank has hired about a dozen people to help Arora and Son with investments.
"This is the beginning of the journey," Arora said. "We're evolving to a structure where we're going to end up holding a portfolio of assets and working with interesting entrepreneurs who we can sort of go the distance with over the next 10 or 15 years."
Before it's here, it's on the Bloomberg Terminal.
LEARN MORE