RBS Posts Unexpected Quarterly Profit Ahead of Government Sale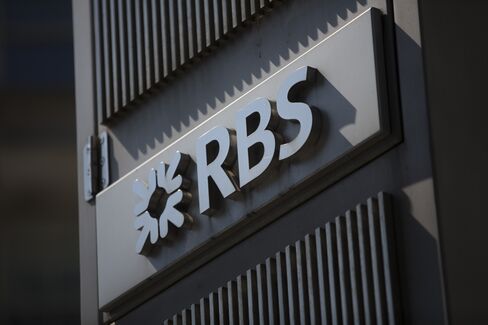 Royal Bank of Scotland Group Plc reported an unexpected profit in the second quarter, boosting the shares as the U.K. government prepares to sell its stake.
Net income rose to 293 million pounds ($457 million) from 230 million pounds a year earlier, Edinburgh-based RBS said in a statement on Thursday. Analysts forecast a loss of 259 million pounds, according to the average of 10 estimates in a company-compiled survey. The bank made a profit of 674 million pounds from Citizens Financial Group Inc., reflecting the increasing value of its stake in the U.S. lender.
Chief Executive Officer Ross McEwan is selling assets and cutting thousands of jobs to return the bank to annual profit ahead of the U.K. government's plans to sell 25 billion pounds of its RBS shares within five years. RBS has seen reviving earnings, fueled by a booming U.K. housing market, helping free up money previously set aside to help cover bad loans.
"It's going to be more helpful for the government sale," said Joseph Dickerson, an analyst at Jefferies International Ltd. in London, with a buy rating on shares. "The results highlight the investment opportunity and the earnings power of the core is starting to become more apparent."
The shares rose as much as 4.8 percent, before swinging between losses and gains. They were up 1.3 percent at 357.7 pence at 11:15 a.m. in London, paring a drop this year to 9 percent.
Stake Sale
Chancellor of the Exchequer George Osborne has said he plans to start reducing the U.K.'s 78 percent stake in RBS within months, even though it may cause a loss for taxpayers, who provided RBS with 45.5 billion pounds of capital during the financial crisis. The government may start selling RBS shares as early as September, a person familiar with the plans has said.
RBS returned to a profit in the second quarter from a 446 million-pound loss in the previous three months, when it set aside money for currency-manipulation probes. In the first half, the bank slipped into a loss from a profit a year ago.
Excluding restructuring costs and conduct and litigation charges, profit fell to 1.8 billion pounds in the second quarter from 1.9 billion pounds a year earlier. That beat the 1.3 billion-pound estimate of four analysts in a Bloomberg survey. The bank cautioned revenue will be lower in the second half as the restructuring of its investment bank accelerates.
The lender said it expects to pay a dividend in the first quarter of 2017 at the earliest as it continues to work through litigation and restructuring costs. Some analysts had forecast earlier payouts as RBS unlocks capital from selling Citizens.
Citizens Exit
"It could disappoint the bulls," Mark Phin, an analyst at Keefe Bruyette & Woods wrote in a note to clients. "Progress from here will be highly dependent on the timing of restructuring charges. But on first sight, the capital beat and faster clean-up are likely to be received well."
The bank's common equity Tier 1 ratio, a measure of financial strength, was at 12.3 percent at the end of the first half, up from 11.5 percent at the end of March. The full disposal of Citizens, expected this year, would add another 3 percentage points to CET1, the bank has said.
RBS said it plans to complete the exit from Citizens by the end of 2015, subject to market conditions. The divestment, along with the "strong progress" made in shrinking the securities unit and the bad bank, will help the lender reduce risk-weighted assets to below 300 billion pounds in 2015.
'Tough Issues'
McEwan signaled further restructuring charges and conduct and litigation costs would damage future earnings, as the bank accelerates the pace of selling unwanted units. RBS is in talks with U.S. authorities over its handling of mortgage securities.
"There are some tough issues coming down the track," McEwan said on a call with reporters. "This will continue to be a noisy year as we go further and faster on restructuring and deal with the conduct issues of the past."
RBS's litigation and conduct costs fell to 459 million pounds in the second quarter from 856 million pounds in the previous three months, while restructuring costs rose to 1.1 billion pounds from 453 million pounds.
The bank didn't set aside more money to cover compensation for the misselling of payment protection insurance in the U.K. Barclays Plc took a provision of 600 million pounds in the second quarter. Lloyds Banking Group Plc, which has been the hardest hit by PPI, will report first-half earnings on Friday.
Lloyds and RBS have both benefited from surging housing demand across Britain. RBS's gross new mortgage lending rose 43 percent to 5.4 billion pounds in the second quarter. The bank said 141 million pounds previously set aside to cover bad loans in the second quarter won't be required anymore.
Read this next:
"We're making good progress on our plan," McEwan said on a call with reporters. "Capital is up, costs are down and there's growing strength in our go-forward business."
Before it's here, it's on the Bloomberg Terminal.
LEARN MORE