Ex-Rabobank Libor Trader Banned in U.K. After U.S. Plea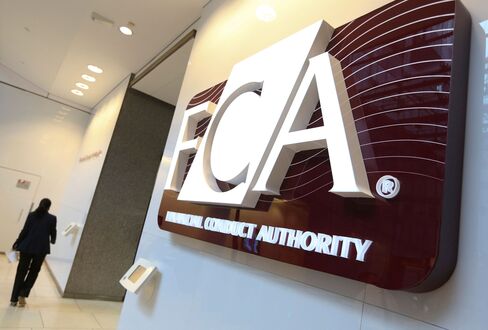 The U.K. Financial Conduct Authority banned a former Rabobank Groep trader from working in the financial industry following a criminal conviction for fraud in the U.S.
Lee Stewart pleaded guilty to his role in a conspiracy to manipulate Rabobank's U.S. dollar Libor submissions in March. The FCA's action follows the recent ban of Paul Robson, another trader at Rabobank, in connection with interest-rate manipulation, the regulator said in a statement Thursday.
Stewart, 52, is one of more than 20 individuals to face charges for rigging the London interbank offered rate and related benchmarks in a global investigation that has reaped about $9 billion in fines. Rabobank was fined 774 million euros ($849 million) by U.S., U.K., and Dutch authorities in 2013 for its role.
Stewart's "behavior was inexcusable and very serious," said Georgina Philippou, the FCA's acting director of enforcement and market oversight. "This ban further reinforces our expectation that individuals and firms take responsibility for ensuring market integrity."
Stewart was a senior derivatives trader at the Dutch bank's London desk from 1993 to 2009, according to the FCA. His behavior demonstrates a "lack of honesty and integrity," which means he isn't a "fit and proper" person to work in the sector, the regulator said.
The FCA has issued 14 warning notices -- penalty statements with fines, industry bans or both -- in connection with Libor. Sanctions proposed against individual traders are as high as 10 million pounds ($15.6 million), according to people with knowledge of the situation.
A U.S. lawyer for Stewart didn't respond to an e-mail request for comment outside of business hours.
Stewart is one of at least seven former Rabobank traders accused by the American prosecutors of engaging in a five-year scheme to manipulate benchmarks. He will be sentenced in the U.S. in 2017.
Hendrik Jan Eijpe, spokesman for Rabobank, declined to comment on the ban.
Before it's here, it's on the Bloomberg Terminal.
LEARN MORE