Preet Bharara's Insider-Trading Smackdown Heads to the Supreme Court
Bharara makes a risky move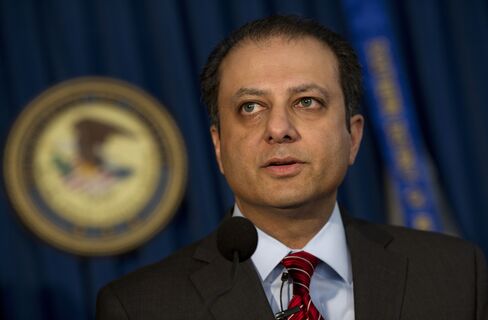 On Thursday, quietly and four days ahead of the deadline, the solicitor general of the U.S. filed a petition to the Supreme Court asking it to review an appeals court decision that threatens to undermine at least some of Preet Bharara's legacy on insider-trading prosecutions.
In December an appeals court overturned the convictions of two hedge fund traders, Todd Newman and Anthony Chiasson, issuing a ruling that made it much harder to prosecute insider trading. In short, the court said, the government needs to prove that someone who traded on inside information they received secondhand was aware that whoever first disclosed the information knew it was confidential and had leaked it in exchange for some kind of benefit. The court also said that simple friendship wasn't enough to qualify as a benefit. It had to be something more tangible.
After having won more than 80 insider-trading convictions and guilty pleas in New York during the last seven years, Bharara and prosecutors in his office disagreed. The appeals court turned down Bharara's request to revisit the decision, which left the Supreme Court as the only option.
Bharara, the U.S. attorney for the Southern District of New York, hated the decision, according to people close to him, and felt it was out of sync with the way business is done on modern Wall Street. Several of the cases at the center of his office's crackdown on illegal trading involved complex webs of friends at different hedge funds who sought out confidential information about publicly traded companies and then shared it among themselves. A judge in another insider-trading case in California recently suggested that the Newman/Chiasson decision set a dangerous precedent and would potentially make it legal for a CEO or other executive to leak confidential information to his or her relatives, who would then be free to trade on it as long as they didn't receive anything concrete in return. In other words, the decision created a whole mess of uncertainty.
The decision to appeal to the Supreme Court is one that Bharara is believed to have wanted from the beginning. He had to persuade the solicitor general, who filed the petition to the high court, to get on board. Although it's a risky move, which could leave prosecutors with an even worse set of rulings, it will likely bring something that defense lawyers and investors urgently need: clarity about whether they're breaking the law.
Before it's here, it's on the Bloomberg Terminal.
LEARN MORE