One More Day at 90 Degrees and New York Can Claim a Heat Wave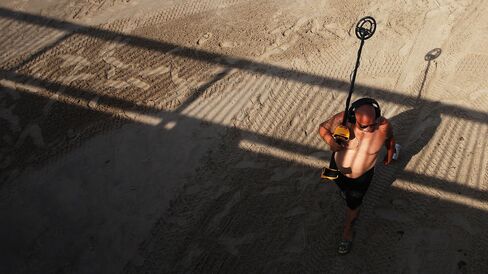 Come on, New York, you can do it.
Just one more day climbing to 90 degrees Fahrenheit (32 Celsius) or above in Central Park and you will have, by a lot of definitions, your first heat wave of the year.
"That has not happened this July, and we have a certainly good chance of it happening this time," said Tim Morrin, a National Weather Service meteorologist in Upton, New York.
Since July 18, the high hasn't dipped below 85 degrees. That's a pretty good run of hot weather even if the city doesn't cobble together three straight days of 90 or more. The heat topped out at 95 on Tuesday and 94 on Wednesday. Heavy rain forecast for Thursday may prevent the city from reaching the high of 92 predicted yesterday -- the current forecast calls for 87 and for temperatures to feel like they're in the 90s.
That is still enough for daytime temperatures, when coupled with high humidity, to pose a health threat, Morrin said. A heat advisory is in place in New York and the immediate metropolitan area.
Once the dew point, a measure of humidity, gets "into the 60s and 70s, it starts to feel oppressive," said Steve LaVoie, a meteorologist at Hometown Forecast Services Inc. in Nashua, New Hampshire. It's usually a good idea then to "limit your time outdoors."
Further down the coast, an excessive heat warning is in effect for Philadelphia and Trenton. That means temperatures will climb into the 90s and actually feel closer to 100.
Daytime highs aren't the only problem for the East. Lows will stay in the mid- to upper-70s.
"Then you have an overnight period where you really don't cool down, and if you don't get inside a building with air conditioning you never really cool off," Morrin said. "It's a cumulative effect."
Air Quality
The National Weather Service posted air quality alerts from Delaware to southern Massachusetts. Ground-level ozone and fine particulates will blanket the hot air to make working outside hard and breathing difficult for people with asthma and heart disease.
Hot weather also is gripping the lower Mississippi River Valley, with excessive heat warnings and advisories stretching from Illinois to Mississippi and then east to Florida and west to Texas. High temperatures also triggered alerts from southern Washington to California, as well as increasing the chances for wildfires in those states.
Not everyone is in on the summer fun. As of 8 a.m. Wednesday, parts of Wyoming and Montana had recorded lows of 28 degrees, the kind of temperatures that will freeze water, make sidewalks slippery and even coax a little snow out of the sky.
Western Snow
Snow fell in the mountains of Montana and Wyoming on Monday, said Keith Jaszka, a weather service meteorologist in Great Falls, Montana. Some places at elevations of about 7,500 feet and higher got from 1 to 2 inches (2.5 to 5 centimeters) when a powerful storm sucked cold air down from Canada. High temperatures Wednesday were springing back to normal, which is the mid-80s.
If you're hoping that some of Montana's cool air will come east, hope for something else. Heat warnings were in place across Ontario and Quebec on Wednesday, so the Canadian deep freeze seems to be running on empty.
Temperatures in New York, Philadelphia and Washington will stay in the low to mid 90s at least through Saturday. That will still be cooler than Dallas, which is forecast to be near 100.
There's always a silver lining.
Before it's here, it's on the Bloomberg Terminal.
LEARN MORE