Nokia's Profitability Improves on Higher-Margin Software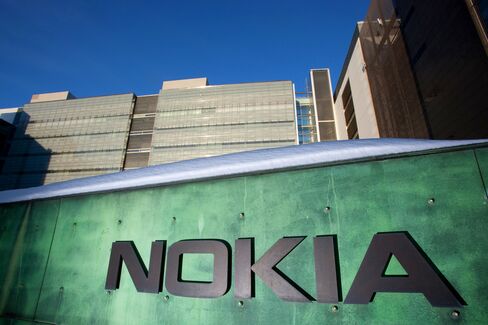 Nokia Oyj's profitability at its network-equipment business improved in the second quarter as higher-margin software contributed more to sales. The stock jumped.
The network unit's operating margin rose to 11.5 percent from 11 percent a year earlier and 3.2 percent in the previous three months, Espoo, Finland-based Nokia said Thursday. Morgan Stanley analysts had projected 7.7 percent. Group sales gained 9 percent to 3.2 billion euros ($3.5 billion), compared with the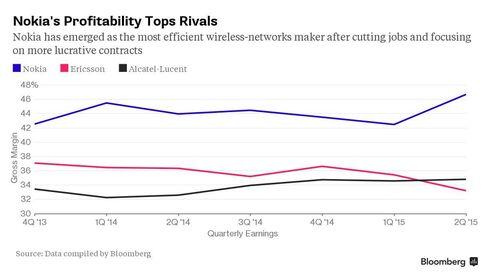 3.32 billion-euro average of estimates compiled by Bloomberg.
Nokia Chief Executive Officer Rajeev Suri has the balancing act of using acquisitions to boost growth while not giving up profitability. Amid sputtering network-gear demand from wireless carriers and competition from Ericsson AB and Huawei Technologies Co., Nokia agreed in April to buy Alcatel-Lucent SA for 15.6 billion euros, a deal that's set to double revenue and give Nokia the scale to topple its two main rivals.
Alcatel-Lucent today posted a 5 percent increase in second-quarter sales and said free cash flow turned positive for the first time in that period since 2006. Its net loss narrowed to 54 million euros from 298 million euros a year earlier.
Shares of Nokia rose as much as 9.6 percent, the biggest gain in a year, and added 8.7 percent to 6.49 euros at 10:04 a.m. in Helsinki. The stock has more than doubled since Nokia agreed to sell its struggling phone business to Microsoft Corp. in 2013. Alcatel-Lucent jumped 7 percent to 3.49 euros in Paris.
'Right Direction'
Alcatel-Lucent said Michel Combes will step down as CEO Sept. 1, with Chairman Philippe Camus becoming interim chief for a transition period as the company prepares to be taken over by Nokia.
The Finnish company reiterated its forecast, saying full-year operating margin at the network unit will be around the midpoint of its long-term target of 8 percent to 11 percent.
Sales at the network unit, which accounts for 85 percent of Nokia's revenue, increased 6 percent to 2.73 billion euros as the company provided more software and services and benefited from the euro's decline.
"A higher proportion of software sales for networks in the second quarter explains the jump in the unit's operating margin," said Hannu Rauhala, an analyst at Pohjola Bank in Helsinki with a hold rating on the stock. "It's encouraging to see it heading in the right direction."
The company is nearing an agreement to sell its maps division to a group of German luxury-car makers, people familiar with the matter said this month. Revenue at that unit rose 25 percent to 290 million euros and Nokia said its strategic review for the business is at an "advanced stage."
Sales at Nokia's research and development unit, which licenses the company's patents and develops products such as the N1 Android tablet and a virtual-reality camera called Ozo, gained 31 percent to 193 million euros.
Before it's here, it's on the Bloomberg Terminal.
LEARN MORE