Jewish Assailant Stabs Six at Gay Pride Parade Through Jerusalem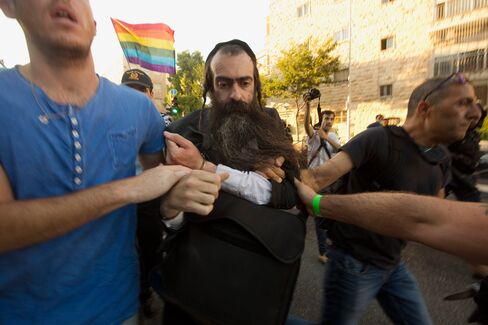 An ultra-Orthodox Jew stabbed six people at a gay-rights parade in downtown Jerusalem, seriously injuring two, police said via text message on Thursday.
Police arrested the assailant and identified him as the same man convicted of stabbing three people at the parade in 2005, according to a text message from police spokeswoman Luba Samri. The man was released from prison three weeks ago.
Israel has promoted itself as the only nation in the Middle East where the rights of homosexuals are protected. More than 100,000 people attended a gay pride parade last month in Tel Aviv.
"Whoever did this has violated both Jewish and moral principles and must receive the harshest punishment," Education Minister Naftali Bennett said in an e-mailed statement.
Before it's here, it's on the Bloomberg Terminal.
LEARN MORE