Jack Ma-Backed China Sports Video Service Seeks $3 Billion Value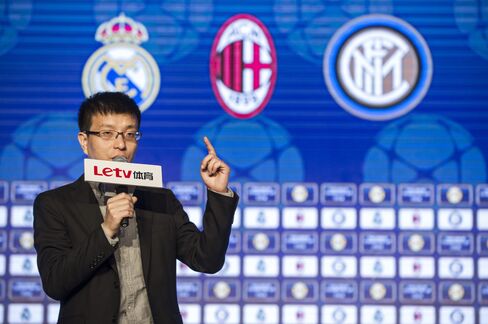 LeTV Sports, the Chinese video-streaming service backed by billionaire Jack Ma, aims to raise $500 million to fund acquisitions and enter businesses such as sales of sporting gear, chief executive officer Lei Zhenjian said.
The envisioned fundraising for LeTV Sports Culture Develop (Beijing) Co. would value the company at $3 billion, Lei said in a phone interview Wednesday. That's more than six times the $450 million valuation at a prior round completed two months ago.
The company needs capital to buy rights to stream sports such as Italian Serie A soccer, develop a fledgling sporting-event management business, and start online sales of sports and exercise gear such as drones and wearable devices, the CEO said.
That also requires people. LeTV Sports plans to increase headcount by about 75 percent to approximately 700 people by the end of the year, in anticipation of a fivefold jump in revenue in 2015, Lei said without specifying sales numbers.
"As we increase the business areas we focus on, it will become more challenging for us as well, because we will face more competitors in each section," Lei said. "This is a challenging time for LeTV Sports, as we hope our main businesses will grow faster."
Its latest effort to raise funds comes as investors, including Softbank Group Corp. President Nikesh Arora, warn that Asian startup valuations look "frothy." More than 8,000 venture capital and private equity funds pooled 4 trillion yuan ($644 billion) in China last year, according to Beijing-based research consultant Zero2IPO.
Alibaba Competitor
LeTV Sports is one of China's fastest-growing and most acquisitive video-streaming startups, backed also by the son of China's richest man Wang Jianlin. It competes with services owned by Alibaba Group Holding Ltd., despite Alibaba co-founder Ma's personal stake, and Tencent Holdings Ltd.
The service evolved from a page on the Leshi movie and TV site in 2012 into a separate entity streaming live sporting events, including NBA and NCAA basketball games.
Now, it wants to grow from a website that streams free content to an all-round sports media business.
The company could announce in the next two months several acquisitions of data software companies that will help it create apps focused on health and sports, Lei said.
LeTV Sports set up a research center in Silicon Valley in July to explore and seek out cutting-edge technology, Lei said. Next month, the company will announce the establishment of a 3 billion yuan venture capital fund to invest in startups that can further LeTV's technology ambitions, he said.
It also wants to get into lower-tech areas and begin selling health and sports gear online including cameras, treadmills and even bicycles in the next few months, Lei said.
"We use content as an access point to win users and hope that they will stay for the value-added services we provide."
Hungry for Cash
Lei said he hopes to complete its latest round of fundraising in the fourth quarter, just months after the company raised $100 million in May.
Yunfeng Capital and Prometheus Capital, run by Wang Sicong, were joined by Wanda Investment Co. in that round.
To quicken the pace at which it's exploring new businesses, LeTV is open to joint ventures.
LeTV last month signed a cooperation agreement with Manny Pacquiao to set up about 400 boxing clubs in China, with LeTV developing apps that complement training classes, Lei said.
LeTV Sports founded a business in February to manage sports events, including soccer games or marathons, in China. It will help find sponsors, sell advertisement and handle live broadcasting. One event the company is already overseeing is the International Champions Cup in China.
Mobile Software
To maximize the use of copyrights it has purchased, LeTV Sports is also developing mobile software, such as games.
Among other things they're developing are so-called "smart sport venues" where users can suss out vacant parking lots and even toilet vacancies via mobile apps, Lei said. He would not name which venues the company was working with.
Le Holdings (Beijing) Co. currently holds a controlling stake in LeTV Sports. The parent company has interests ranging from TV sets and mobile devices to e-commerce sites. It is also developing electric cars, the company said in December.
"Our company is at a fast growth stage right now, so we hope that we can attract more funds to invite more partners," Lei said.
For more, read this QuickTake: Jack Ma
Before it's here, it's on the Bloomberg Terminal.
LEARN MORE