Irish Economy Grows for Fifth Quarter; Pace Picks Up to 1.4%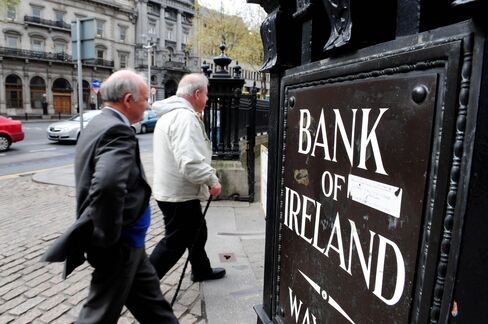 Ireland's economy expanded for a fifth straight quarter at the beginning of the year, helped by growth in exports and consumer spending.
Growth accelerated to 1.4 percent from 1.2 percent in the final quarter of 2014, the Central Statistics Office said in Dublin on Thursday. That compared with the 1.9 percent median estimate of five economists surveyed by Bloomberg.
The CSO also made substantial revisions to earlier periods, and gross domestic product rose an annual 6.5 percent in the second quarter. The economy is now about 3.4 percent bigger than it was before the financial crisis struck in 2008.
"Although over 6 percent yearly growth rates were not unusual for Ireland in the pre-crisis years, the current growth spurt still looks like catching-up speed rather than cruising speed," said Anthony Baert, an economist at ING Bank. "However, this process could still take some time."
Consumers started last year to play a part in the nation's recovery, taking the burden off exporters and inward investment, which cushioned the economy during the financial crisis. The central bank increased its full-year GDP forecast this week to 4.1 percent, citing increases in jobs, incomes and domestic demand.
Household spending increased 1.2 percent in the first quarter from the previous three months, government spending fell 0.4 percent and gross capital formation dropped 3.1 percent. Exports jumped 2.3 percent in the quarter, outpacing a 0.6 percent gain in imports.
Read this next:
Before it's here, it's on the Bloomberg Terminal.
LEARN MORE