Inconvenient Truth Thwarts Xi as China State Buyouts Lift Bonds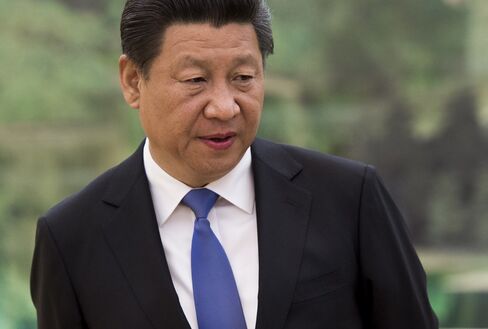 President Xi Jinping's calls for less state influence in the economy are running into an inconvenient truth in China's bond market, where the hint of a government takeover can spur an overnight rally.
State-owned China National Building Material Co. drove a record 5 percent gain in China Shanshui Cement Group Ltd. notes in a single day last week by saying it's considering raising its stake in the firm. Government-backed China Communications Construction Group gave a boost to Greentown China Holdings Ltd. debt by becoming the builder's largest shareholder in May.
"This shows investors still favor state backing selectively because it would lead to lower financing costs and better corporate governance, even though the government wants to reduce its stake in many inefficient companies," said Raymond Chia, the head of credit research for Asia ex-Japan at Schroder Investment Management Ltd.
Scarred by defaults of private-sector firms such as developer Kaisa Group Holdings Ltd. and coal trader Winsway Enterprises Holdings Ltd. this year, bond investors are paying larger premiums for government backing. While President Xi pushes for privatization, state firms use their influence to find funds for takeovers, just as private companies are starved of cash by imploding shadow-finance and equity markets.
State Rewards
Government companies still dominate aviation, railways, steel, telecom, finance, energy and electricity more than three decades after China's economy was opened to the outside world. The trend, consolidated during the massive stimulus package launched in 2008, is called guojin mintui, or "the state advances, the private sector retreats."
China has the world's biggest corporate borrowings, much of it held by state-linked firms, testing Xi's resolve to give market forces a greater role. Under his watch, only one state-owned enterprise has defaulted, Baoding Tianwei Group Co. in April, even as private-sector failures mounted.
"The past two years in China credit we have been rewarded for backing state-owned companies," said Owen Gallimore, a senior Asia credit analyst at Australia & New Zealand Banking Group Ltd. in Singapore. Many non-state companies are "heavily exposed" to China's commodities and industrial slump.
Shanshui Bid
Shanshui notes are likely to rise to 110 cents if a takeover occurs, according to a July 22 report from Morgan Stanley. China National Building Material said on July 21 that it is considering an offer with another shareholder to acquire all shares they don't already hold. The next day, Shanshui's 7.5 percent bonds due 2020 jumped a record 4.7 cents.
Greentown said on May 18 that state-owned China Communications Construction increased its stake to 28.9 percent from 24.3 percent. The next day, the developer's 2019 notes jumped 2 percent, the most in four months.
Standard & Poor's raised its rating on the builder in July one level to BB, saying its largest owner would consider the company "moderately strategic." Moody's Investors Service raised its rating in June.
Investors are buying more top-rated bonds in China as economic growth slows to the least in more than two decades. Chinese companies have issued $46.2 billion of investment-grade dollar notes this year in the offshore market, most of which were from SOEs, representing a jump of 34 percent over the same period last year. This compares to a 28 percent drop in high-yield note sales excluding bank capital to $5.6 billion.
The premium for dollar junk bonds from China over investment-grade notes has leapt to 525 basis points from 461 basis points a year ago, according to Bank of America Merrill Lynch indexes.
There are some risks to investors even with government ownership, according to Schroder's Chia.
"Investors should pay attention to whether there is any change in management strategy and whether leverage would rise," Chia said. "They also need to consider how important the weaker company is to the state-owned shareholder and whether the government support will last."
For more, read this QuickTake: China's Debt Bomb
Before it's here, it's on the Bloomberg Terminal.
LEARN MORE