Fiat Chrysler Raises Profit Forecast as Jeep SUV Sales Jump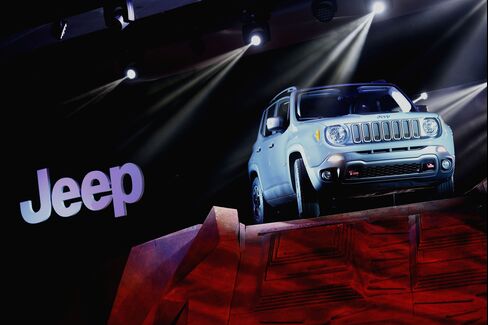 Fiat Chrysler Automobiles NV raised its full-year earnings forecast after Jeep sport utility vehicle sales and growth in North America propelled a 58 percent jump in second-quarter profit. The stock rose the most in nine months.
Adjusted earnings before interest and taxes will equal or exceed 4.5 billion euros ($4.9 billion), the London-based carmaker said Thursday in a statement. That figure had been the top end of Fiat Chrysler's 2015 forecast range. Second-quarter profit on that basis surged to 1.53 billion euros from 968 million euros a year earlier.
The upbeat outlook and profit jump ease pressure on Chief Executive Officer Sergio Marchionne after Fiat Chrysler accepted a record penalty from U.S. regulators because of mishandled recalls. With Jeep underpinning profit in Europe and North America, the Italian-American automaker looks equipped to carry through with plans to expand the Alfa Romeo and Maserati brands, even as economic woes in Brazil sap a former growth market and debt poses a burden.
"Marchionne managed to surprise everyone by raising profit targets," even amid concerns about weak Latin American car markets and U.S. vehicle recalls, said Vincenzo Longo, a strategist at IG Market in Milan. "That's outstanding for investors, and that's why the stock is booming."
Fiat Chrysler jumped 7.3 percent to $15.58 at the close in New York, its biggest gain since Oct. 29. The stock has risen 35 percent this year.
Earnings Double
Ebit in North America adjusted for one-time gains or costs more than doubled to 1.33 billion euros from 595 million euros a year earlier, with the margin widening to 7.7 percent of sales from 4.9 percent.
Fiat Chrysler raised profitability in the U.S. by cutting back on dealer discounts and increasing retail deliveries at the expense of less-profitable sales to rental-car companies and other fleet buyers.
The profit margin in the region, while dramatically improved, still trails those of General Motors Co. and Ford Motor Co., its larger U.S. competitors, Marchionne said on an earnings conference call.
"When I look at what are competitors are pulling out of North America, we are still significantly behind their performance," he said. "Our objective is to close that gap and to do it as quickly as we can."
Read this next:
Ford, GM
Ford's pretax operating income in North America rose to a record of $2.6 billion in the second quarter. Ford said it now believes its North American operating margin will be the high end of its forecast of 8.5 percent to 9.5 percent. GM last week posted a record 10.5 percent profit margin in North America, based on adjusted earnings before interest and taxes.
Fiat Chrysler's profit in the European, Middle East and Africa market amounted to 57 million euros after the business broke even in the 2014 period. Latin American operations posted a 79 million-euro loss versus a 63 million-euro profit.
The Jeep brand's deliveries rose 27 percent, helping group vehicle sales match the year-earlier figure at 1.2 million. The company doesn't break out earnings for the Jeep, Fiat or Alfa Romeo nameplates.
Adjusted Ebit at the Ferrari supercar unit, which the manufacturer is planning to spin off, rose 18 percent to 124 million euros as revenue increased 5.1 percent, widening the margin to 16.1 percent of sales from 14.4 percent.
Before distributing 80 percent of Ferrari stock to Fiat Chrysler shareholders, the company plans to sell a 10 percent stake in the unit in an initial public offering targeted for October. Marchionne said earlier this month that the Maranello, Italy-based division is worth "at least" 10 billion euros.
Before it's here, it's on the Bloomberg Terminal.
LEARN MORE