Ericsson Left Behind as Nokia, Alcatel Increase Profit Margins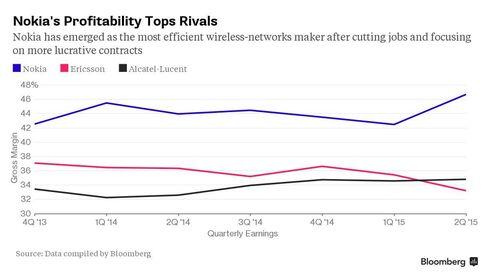 Nokia Oyj and Alcatel-Lucent SA's improvements in second-quarter profitability are putting pressure on market leader Ericsson AB to focus on savings and higher-margin businesses.
Shares of Nokia and Alcatel-Lucent soared after both companies posted higher gross margins, a key measure of financial health for wireless-network manufacturers. The two suppliers now both surpass Ericsson based on that metric -- months before Nokia completes its 15.6 billion-euro ($17 billion) takeover of Alcatel-Lucent.
The rivals' progress shows Ericsson Chief Executive Officer Hans Vestberg has his work cut out to help the Swedish company catch up. Vendors need to be consistently profitable to ensure they have the means for product development and marketing as they compete for contracts reaching billions of dollars from the likes of AT&T Inc. and Vodafone Group Plc.
"The merger is clearly building on very strong basis," said Pierre Ferragu, an analyst at Sanford C. Bernstein Ltd. in London. Ericsson will "need to put their house in order -- more focus and more efficiency."
Nokia's second-quarter gross margin, or sales minus the cost of goods sold, expanded to 46.7 percent as the Finnish company contained expenditures and sold more lucrative software products. Alcatel-Lucent's margin increased to 34.8 percent. Ericsson reported a margin of 33.2 percent for the period, weighed down by restructuring expenses.
Savings Sought
Ericsson is trying to balance the quest for additional contracts with the need to boost profitability. The company is cutting about 2,100 positions in Sweden as part of a plan to save 9 billion kronor ($1 billion). Savings from the plan will begin to help earnings later this year, Vestberg has said.
An Ericsson representative declined to comment on its or rivals' margins, saying the company focuses on its strategy.
Amid sputtering network-gear demand from wireless carriers and competition from Ericsson and Huawei Technologies Co., Nokia agreed in April to acquire Alcatel-Lucent, a deal that's set to double revenue and give Nokia the scale to topple its two main rivals. The combination will bring savings of 900 million euros a year, Nokia projects.
"Our disciplined operating model puts us in a strong position to deliver in a competitive market, and we plan to maintain that model after we close our transaction with Alcatel-Lucent," Nokia Chief Executive Officer Rajeev Suri said in an e-mailed response to questions.
Past Failures
Shares of Nokia rose as much as 9.6 percent, the biggest gain in a year, and added 7.2 percent to 6.41 euros at 2:25 p.m. in Helsinki. The stock has more than doubled since Nokia agreed to sell its struggling phone business to Microsoft Corp. in
2013. Alcatel-Lucent jumped 5.6 percent to 3.44 euros in Paris. Ericsson advanced 0.9 percent in Stockholm.
To be sure, the integration won't be simple and further margin gains aren't guaranteed. The companies have more than 110,000 workers combined, and will need to merge technology platforms and negotiate with labor unions in the quest for savings.
What's more, each company has experienced failures with previous attempts to combine with a competitor. Alcatel's $13.4 billion purchase of Lucent Technologies Inc. in 2006 resulted in years of losses, while Nokia struggled with its joint venture with Siemens AG, eventually buying out the German partner.
Ericsson is now the largest maker of wireless-network gear -- which includes equipment such as base stations and antennas that transmit mobile-phone calls and data -- with a market share of 25.7 percent in 2014, according to IDC. Huawei had 23.2 percent, Nokia 15.8 percent and Alcatel 11.4 percent share.
Before it's here, it's on the Bloomberg Terminal.
LEARN MORE