Do Fitter Economic States Produce Healthier Residents?
Food for thought
Which state has the healthiest lifestyle? MyFitnessPal and MapMyFitness—two popular smartphone apps that help the health-conscious tabulate their energy in and energy out—used data collected from their users across the country to rank the states (plus D.C. and Puerto Rico) from best to worst. It may not come as a surprise: California clocked in at the healthiest, with most other western states also making the top 10. The least healthy included Washington, D.C,. both Dakotas, and in last place, Wyoming.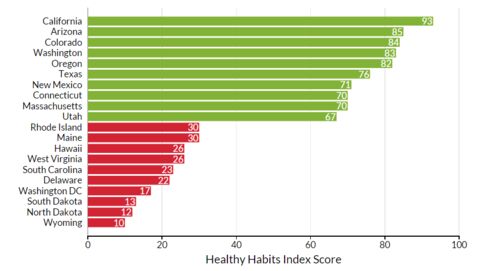 Metrics included average workouts a week …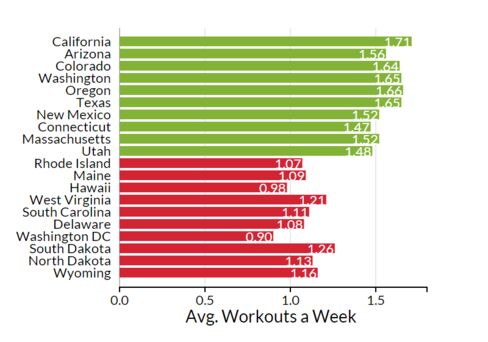 … as well as coming close to daily calorie goals: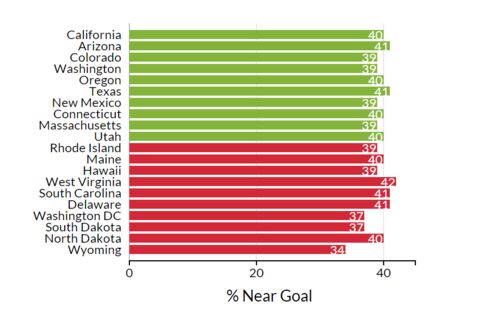 How does this correlate with states' own economic health? Turns out states with the unhealthiest citizens (red circles) tend also to rank lower in GDP growth (Y-axis). They also perform worse on a Bloomberg index that combines statistics on tax collections, personal income, employment, home prices, mortgage foreclosures. and the stock performance of companies located in a state (X-axis). Notable outliers include Wyoming, West Virginia, and North Dakota, which all saw GDP gains in 2014 boosted by the mining sector, according to the Bureau of Economic Analysis.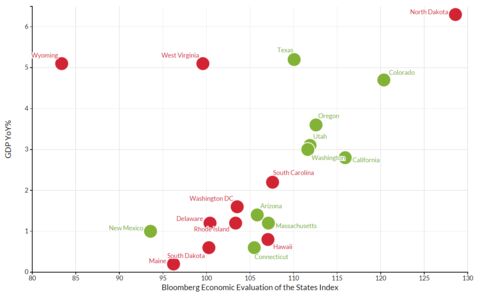 States with the unhealthiest citizens also tend to have higher unemployment and foreclosure rates than their healthier counterparts. Three notable exceptions: South Dakota, Wyoming, and oil-rich North Dakota, all of which are among the least-populated states.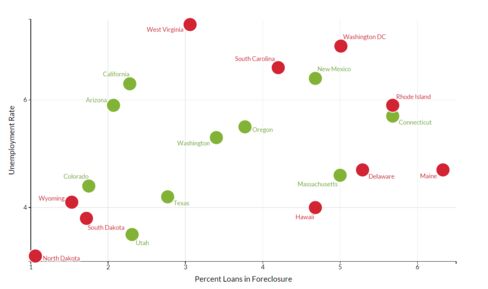 So will moving from a red state to a green state help you get your finances—and waistline—in check? Clearly, the relationship is more complicated than that, but it certainly gives some (low-cal) food for thought.
This story is based on Bloomberg Brief's interactive StoryChart that originally ran in the Municipal Market newsletter.
Before it's here, it's on the Bloomberg Terminal.
LEARN MORE