Cecil the Lion Killing Investigated by U.S. Wildlife Agency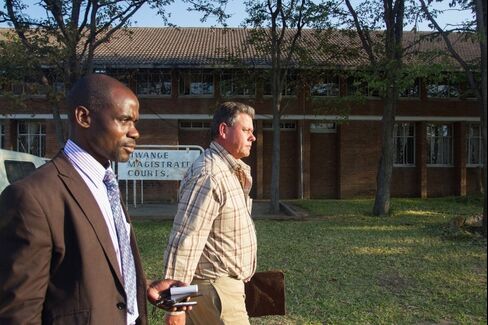 The U.S. Fish and Wildlife Service, which enforces the federal endangered species law, said it's investigating the killing of Cecil the Lion in Zimbabwe by an American dentist.
The agency said it's gathering facts, and has asked Walter Palmer, a Minnesota dentist, to contact them.
The "investigation will take us wherever the facts lead," Edward Grace, the agency's deputy chief of law, said Wednesday in a statement. Efforts to reach Palmer have been unsuccessful and officials asked him or his representative to contact the agency.
Cecil was killed this month outside Hwange National Park in Zimbabwe, where he was a star attraction among tourists. A professional hunter in Zimbabwe, Theo Bronkhorst, was granted bail of $1,000 after appearing in a court on Wednesday for allegedly helping Palmer shoot the animal.
Cecil was collared and monitored as part of an Oxford University research project. Palmer said in a statement to the Star Tribune in Minneapolis that he believed he had legally hunted the animal and that he didn't know it was collared.
On a recent trip to Africa, President Barack Obama discussed measures to counter illicit wildlife trafficking, spokesman Josh Earnest said Wednesday. Obama is aware of the killing, the spokesman said.
Proposed Listing
The wildlife service has proposed listing the African lion as threatened under the Endangered Species Act, a decision that's set to be finalized this year. Under that proposal, the import of lion "trophies" from sporting hunts would be allowed provided that the lions originate from countries that have a scientifically sound management plan.
Because that rule isn't in place, the only restrictions are laws for trade involving endangered species. They require that lion carcasses imported into the U.S. have an export permit from the country where the animals were killed. The U.S. is trying to determine if Cecil's body was sent to the U.S., and whether Palmer had the appropriate export permit.
A petition asking the Obama administration to extradite Palmer to Zimbabwe in connection with the lion's death had more than 144,000 signatures on Thursday, two days after it was created. To receive a response from the White House, petitions must have 100,000 signatures within 30 days of being posted.
"We urge the secretary of state, John Kerry, and the attorney general, Loretta Lynch, to fully cooperate with the Zimbabwe authorities and to extradite Walter Palmer promptly," the petition urges.
The U.S. has an extradition treaty with Zimbabwe, one of the few African nations that has such an agreement.
Before it's here, it's on the Bloomberg Terminal.
LEARN MORE