Audi Trims Global Sales Forecast, Citing China Slowdown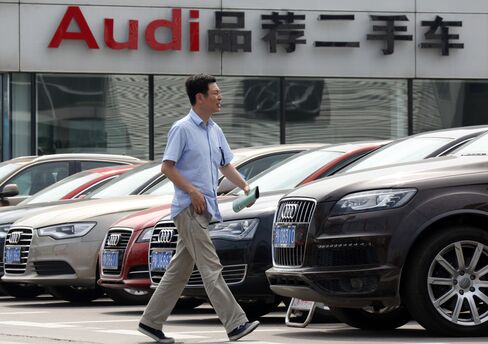 Audi AG trimmed its global annual sales forecast as the world's second-biggest luxury-car manufacturer faces volatile markets in China and elsewhere.
Audi will deliver more cars this year than last, the Ingolstadt, Germany-based carmaker said Thursday in a statement. Audi had previously said it would sell "significantly more" cars. Its parent Volkswagen AG on Wednesday also lowered its global sales goal.
"We intend to grow also in the full year and will continue to master the many challenges facing us," sales chief Luca de Meo said in a telephone conference call with reporters. The sales growth could be "about 3 or 4 percent," he said.
Slowing demand in China, Audi's largest sales region, is weighing on sales and earnings at global automakers, adding to woes triggered by contracting car markets in Latin America and Russia. Earlier this month, Audi abandoned a target to sell 600,000 cars this year in China. It delivered 578,932 cars in the country last year.
Volkswagen fell 0.8 percent to 184.8 euros at 11:37 a.m. in Frankfurt.
Revenue this year will also rise, Audi said, though the rate of growth will depend on the condition of the global economy. The company reiterated a target of an operating return on sales within a corridor of 8 percent to 10 percent. It was at the upper end of this range at 9.8 percent in the first half of the year, despite heavy spending.
Audi boosted investments in its business 29 percent to 2 billion euros in the first half, part of a 24 billion-euro five-year investment plan through 2019. The company is building a factory in Mexico for its Q5 sport utility vehicle and developing new technology, including an electric crossover intended to challenge Tesla Motors Inc.
Mercedes Comparison
Mercedes-Benz, the world's third-largest maker of luxury cars, beat Audi in global deliveries in June. Mercedes sales in China surged 39 percent. After the first six months of the year, Mercedes trailed Audi by fewer than 4,000 cars, and it may replace its rival in the No. 2 spot after market leader BMW AG this year if growth trends for the brands continue.
Mercedes benefits from a younger product lineup, including the new S-Class sedan. By comparison, about 40 percent of Audi's global sales volume is due for an update. That includes the bestselling A4 lineup, which will be presented at the Frankfurt auto show in September.
A sales race with Mercedes "is not the aim of the game," de Meo said. New and updated models should start driving Audi's sales too as of next year, he said.
Before it's here, it's on the Bloomberg Terminal.
LEARN MORE