YouTube Stars Go on Tour Betting Social Media Can Sell Tickets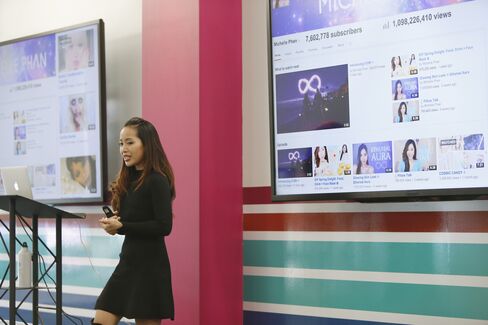 YouTube's biggest stars, already padding their income with movies, books and business ventures, are trying to cash in on live events too.
A sextet of fashion and lifestyle bloggers with more than 10 million YouTube subscribers between them will tour 20 cities starting in September. "Girls Night In," an all-female variety show led by Eva Gutowski and Meredith Foster, is being produced by a new division of Fullscreen Inc., the online video network controlled by Peter Chernin and AT&T Inc.
Live events are one of the new ways in which online celebrities are capitalizing on their young fans' devotion. Where comedians and musicians once built a following on tour and then broke through to a wider audience through movies, TV or records, outlets like Google Inc.-owned YouTube, Twitter, Snapchat and Vine provide a new path, upending the traditional route to stardom.
"Now it's almost the reverse," said Ezra Cooperstein, Fullscreen's chief operating officer. "You build a digital following and have the opportunity to build these unique experiences for your fans."
The result is that stars from top online channels are finding new avenues to exploit their popularity -- from films to books to producing video games.
"We're not just creators in the world of video, we also create businesses too," said Michelle Phan, who co-founded a $100 million subscription beauty business called Ipsy and the online network Icon that includes her popular channel. "And the only marketing tool was social media."
Ticket Sales
Stars who became famous uploading videos to YouTube are proving they can use that social-media moxie to sell tickets. DigiTour Media has hosted festivals with online stars such as Nash Grier this summer, with sponsors including Coca-Cola Co. and Delta Air Lines. It sold 120,000 tickets for 60 shows in 2014, according to trade publication Variety.
Rooster Teeth, a video-game-focused online network acquired by Fullscreen last September, has hosted a convention in Austin for the last five years called RTX.
Rooster Teeth sold 33,000 RTX tickets to fans last year, triple the 2013 total, according to Burnie Burns, the founder. He plans to sell 40,000 tickets for this year's show in August.
Burns should bank a couple million dollars in sales from the three-day-event, and will extend RTX to Australia next year. After selling 600 tickets a few years ago, he now believes live events could be an entirely separate business.
"There's an energy to live events you don't get when posting a video online," Burns said. "The live-event space is getting pretty crowded."
New Audiences
DreamWorks Animation SKG Inc.'s teen-focused AwesomenessTV has produced a couple of movies, most recently "Smosh: The Movie." And United Talent Agency Inc. partnered with CBS Corp.'s Simon & Schuster to create Keywords Press, which released books by YouTube stars Zoe Sugg (Zoella) and Justine Ezarik (iJustine). Both became bestsellers.
The books exposed new audiences to the writers, broadening their support beyond the cadres of young women who attend VidCon, an annual industry convention in Anaheim.
"The whole goal of the book was to age up," said Mamrie Hart, whose Penguin Random House title "You Deserve a Drink" spent one week ahead of Malcolm Gladwell on the New York Times' bestseller list for paperback non-fiction.
Phan, who has almost 8 million YouTube subscribers, wants to build businesses outside of entertainment. Like others, she's preparing for a day when YouTube views start to dry up.
"I needed to have an exit strategy if my views plateau and my channel didn't grow," Phan said. "I didn't want to live video by video."
Before it's here, it's on the Bloomberg Terminal.
LEARN MORE