Whole Foods Misses Estimates After Rivals Nab Organic Shoppers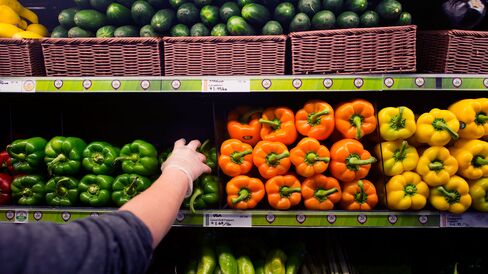 Whole Foods Market Inc. tumbled as much as 12 percent after posting disappointing results and cutting its sales forecast, a sign the organic grocer is losing its edge in a market it helped pioneer.
Excluding some items, earnings came in at 44 cents a share last quarter, the company said in a statement Wednesday. Analysts had estimated 45 cents on average, according to data compiled by Bloomberg. Sales were $3.63 billion in the period, which ended July 5. The average estimate tracked by Bloomberg was $3.69 billion.
The numbers renewed concerns that Whole Foods is struggling to beat back an onslaught from mainstream grocers. These days, Wal-Mart Stores Inc. and other big chains offer a wide range of organic and natural goods -- often at lower prices. That makes it harder for Whole Foods to stand out. Though the company is planning to woo millennials with a new store concept, that plan won't get off the ground until next year.
"You've had so many players coming into this market because of this growth in the natural and organic industry," said Brian Yarbrough, an analyst at Edward D. Jones in St. Louis. So far, Whole Foods' efforts to lower prices haven't been enough to draw more shoppers, he said.
The shares fell as low as $35.94 on Thursday in New York for the biggest intraday decline since May 7. They already had lost 19 percent this year through Wednesday's close, while the Standard & Poor's 500 Index gained 2.4 percent.
Sales Forecast
The Austin, Texas-based company said on Wednesday that same-store sales will grow by a low-single-digit percentage this fiscal year. The upper end of the range was previously in the mid-single digits.
As it struggles with mounting competition, Whole Foods announced plans in May for a new store concept. The lower-priced chain, called 365 by Whole Foods Market, will open in 2016 and offer "modern, streamlined design with innovative technology and a carefully curated product mix," the company has said.
The move is part of a broader effort to convince consumers that Whole Foods has reasonable prices. The company, founded in 1978, has been saddled with the nickname "Whole Paycheck." But its prices are now in striking distance of rivals perceived to be lower cost.
According to a July study by Bloomberg Intelligence, Whole Foods' private-label items are only slightly more expensive than those of Trader Joe's. A basket of 35 products was $88.86 at Whole Foods, while $86.75 at Trader Joe's.
Cutting prices comes at a cost, though, Yarbrough said.
"They're going to have to take prices lower and that's our concern," he said. "When you lower prices, it hurts margins."
(A previous version of the story was corrected to fix Whole Foods' sales forecast.)
Before it's here, it's on the Bloomberg Terminal.
LEARN MORE