Uber Faces U.K. Lawsuit as Union to Sue Over Working Conditions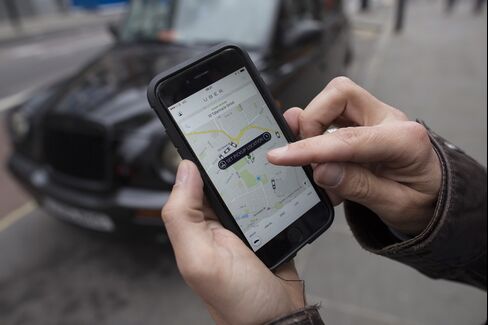 Uber Technologies Inc. faces a lawsuit complaining that the ride-sharing service doesn't ensure minimum wages or paid vacations for drivers.
The suit will be filed as soon as next month and may include allegations of health and safety violations, according to law firm Leigh Day, which represents the GMB union.
Uber is fighting legal battles on fronts across the globe as traditional taxi drivers worldwide say they are bound by rules that don't apply to the smartphone-based system. London cabbies have clogged roads and threatened criminal complaints against four Uber drivers as part of their fight.
"We believe that it's clear from the way Uber operates that it owes the same responsibilities towards its drivers as any other employer does to its workers," Nigel Mackay, a lawyer for Leigh Day, said in the statement.
Uber is awaiting the outcome of a U.K. High Court case that will clarify rules for what constitutes a regulated taxi service, an Uber spokesman said.
"As employees, drivers would drive set shifts, earn a fixed hourly wage, and lose the ability to drive elsewhere as well as the personal flexibility they most value," the Uber spokesman said in a statement. "The reality is that drivers use Uber on their own terms: they control their use of the app."
Separately the LTDA union, which represents the drivers of London's iconic black cabs, is privately prosecuting their Uber rivals, accusing them of illegally using a private hire car with a taxi-meter. The cases are on hold until the High Court reaches a decision on regulated services.
Read this next:
Before it's here, it's on the Bloomberg Terminal.
LEARN MORE