U.S. Preparing to Push Back on Iran's 'Malign Influence'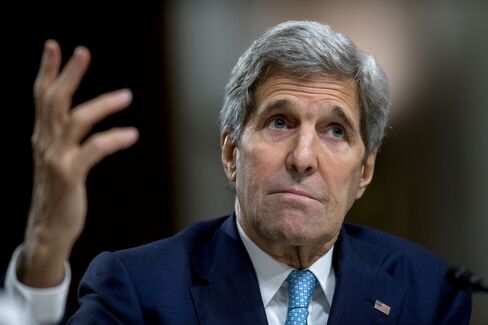 The Obama administration is planning new steps to counter Iran's support for terrorism and "malign influence" as U.S. lawmakers and regional allies contend that the nuclear deal will strengthen Islamic Republic hard-liners.
Secretary of State John Kerry said Tuesday that he plans to discuss "very specific steps" with Persian Gulf allies in a visit to the region next week in response to Iranian activities that fuel regional turmoil and support terrorist groups.
At a House hearing on the nuclear agreement reached between Iran and world powers, both Republican and Democratic lawmakers expressed concern that lifting economic sanctions against Iran will make it a more powerful threat to Israel, the Persian Gulf Arab nations and U.S interests elsewhere.
New actions by the U.S. could help counter the deal's critics, especially conservative and pro-Israel groups that have put the administration on the defensive over the accord.
The agreement "places no limitations –- let me repeat that, no limitations -– on what the Department of Defense can and will do to pursue our defense strategy in the region," Defense Secretary Ashton Carter told the Senate Armed Services Committee in testimony on Wednesday. "It places no limits on our forces, our partnerships and alliances, our intensive and ongoing security cooperation, or on our development and fielding of new military capabilities."
Sanctions Relief
Critics have said that the sanctions relief provided in exchange for Iran curbing its nuclear program will allow it to spend more on its Islamic Revolutionary Guard Corps, on regional proxies such as Hezbollah, on allies such as the Syrian regime of Bashar al-Assad and on other activities such as aiding the Houthis' fight in Yemen.
Sanctions relief will give Iran much more money and make a big difference in its ability to wreak havoc in the region, said an Israeli official speaking on condition of anonymity to discuss diplomatic developments.
'Malign Influence'
Carter was in Israel last week, where he discussed ways to curtail what he called Iran's "malign influence." Kerry, Army General Martin Dempsey, chairman of the Joint Chiefs of Staff, and Energy Secretary Ernest Moniz testified alongside Carter at the Senate hearing Wednesday on the nuclear agreement's impact on the military balance in the Middle East.
Kerry has referred in recent interviews and testimony to possible new actions to constrain Iranian conventional threats, including imposing additional sanctions, interdicting arms shipments, offering further military and intelligence assets to Israel, and providing special operations training to Gulf states.
Kerry is scheduled to meet Aug. 3 in Doha, Qatar, with his counterparts from Saudi Arabia and the other Gulf Cooperation Council members, which have expressed anxiety about the regional implications of the nuclear deal and the extent that the U.S. will continue to counterbalance Iran.
'Specific Steps'
"We're laying out with them the very specific steps with respect to that pushback and what we will be engaged in in order to increase security," Kerry told the House Foreign Affairs Committee.
Outlining a range of activities that he said the U.S. is considering, Kerry said, "We will be engaging in special forces training, counterterrorism, counterinsurgency, counterfinance -- a whole series of steps in order to empower all of us to do a better job" to thwart Iran's actions.
In response to questions, Kerry said that the nuclear deal between Iran and six world powers doesn't prevent the U.S. from expanding sanctions on Iranian entities and individuals for misdeeds such as shipping arms to Hezbollah, which the U.S., EU and Israel consider a terrorist group.
Administration officials see sanctions as a tool they can continue to use even after lifting nuclear-related sanctions under the accord, according to Daniel Kurtzer, a veteran diplomat who was ambassador to Israel from 2001 to 2005.
Administration's Intention
"From conversations I've had with the administration, there's every intention in the world to employ sanctions if necessary on Iranian behaviors outside the agreement," he said on a conference call last week arranged by the Truman National Security Project.
Kerry told the Senate Foreign Relations Committee on June 23 that he'd be talking with the GCC nations about a potential "new alignment" with Israel to mitigate Iranian threats. While Israel and the Gulf nations share antipathy toward Iran, they don't have diplomatic relations in light of the Arab-Israeli conflict.
The question of how much money Iran could reap from the lifting of nuclear-related sanctions is one flash point in the congressional debate, a less complicated issue than the technical nuclear provisions of the accord.
Unfreezing Funds
"What concerns me the most is this deal frees up hundreds of billions of dollars to the world's leading state sponsor of terrorism," said Republican Representative Michael McCaul of Texas, a committee member who is also chairman of the House Homeland Security Committee.
At the House hearing, Treasury Secretary Jacob J. Lew said the Iran deal will unfreeze roughly $56 billion in usable assets. That's far less than the "theoretically available" figure of as much as $115 billion, due to money tied up in contracts with countries such as China and in nonperforming loans, Lew said.
Lew said much of Iran's unfrozen assets will be required for domestic needs, though some probably will go to to "malign" activities and groups.
"Though there will be some more resources available, it'll be on the margin, and it'll be along the lines of what they're already doing, which puts the burden on us and our allies in the region to shut down the flow of money and the flow of materiel to malign forces," he said.
The U.S. can do much to thwart Iran in the wake of the nuclear deal, Ilan Goldenberg, a senior fellow at the Center for a New American Security, told the House committee on July 23.
"A few billion dollars in extra funds to Iranian terrorism is a terrible thing, but it's something that the United States of America can counter through a more aggressive policy of training partners, special operations forces, intelligence-sharing, joint covert action and interdiction policies, working closely with the Saudis, the Israelis and other key partners," he said.
Before it's here, it's on the Bloomberg Terminal.
LEARN MORE