Tsipras Takes On Party Rebels With Threat of Snap Greek Vote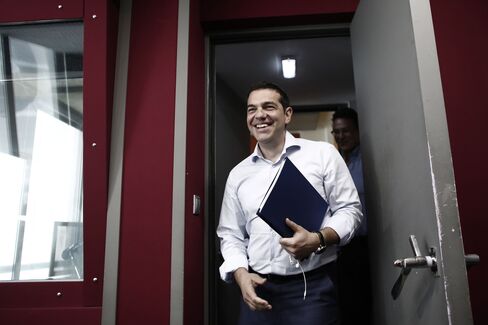 Greek Prime Minister Alexis Tsipras took on dissenters within his own party, warning he'll call an election unless backbenchers opposing a deal with creditors fall into line or quit.
"I'm the last person who would want elections," the 41-year-old premier said in an interview Wednesday with Sto Kokkino, a radio station linked to his party. "If I don't have a parliamentary majority, though, we will be forced to head to a snap vote."
After five years of austerity, two bailouts, and the deepest recession in more than half a century, the premier is asking voters and lawmakers to accept new budget restrictions that he himself pledged to end when he came to power in January. Greece has no other viable option to but to accept its creditors demands, he said, and governing party lawmakers who have a different view should "give up their seats."
Greece was forced to shut banks and impose capital controls on June 29, after Tsipras ended talks with the European Central Bank, the International Monetary Fund and the European Commission by asking voters to decide in a referendum on whether to accept the terms offered in exchange for emergency loans. Banks reopened with limited services last week, after Tsipras capitulated to creditors' demands, while financial markets will remain closed for fifth consecutive week, an Athens Stock Exchange spokeswoman said on Wednesday.
Election Decision
According to Tsipras, the final decision on an election will depend on developments within his Syriza party. The group's central committee meets Thursday to decide the timing and logistics of an emergency congress after about a quarter of its lawmakers refused to back the prime minister's deal with creditors in votes this month.
Two government officials said the congress could take place as early as this weekend, while Tsipras said he would prefer the party convene at the beginning of September. The officials, who asked not to be named, said elections may take place either after the congress or once creditors make an assessment of progress in implementing the economic reforms, paving the way for debt relief.
According to Tsipras, euro-area nations committed this month to ease Greece's debt burden once the country completes the first review of its next bailout. The comments echo those of European Economic Affairs Commissioner Pierre Moscovici. German Chancellor Angela Merkel has been more circumspect.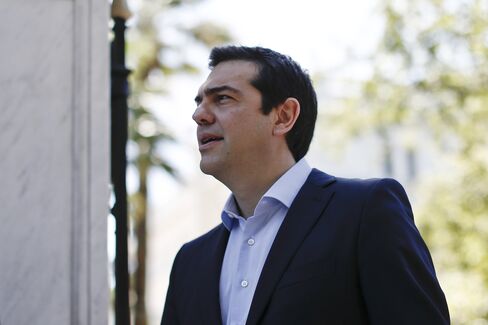 Left Platform
There's no chance for a snap vote before the new loan facility from the euro area and the IMF is finalized, the government officials said, citing the unstable economic situation.
The so-called Left Platform of Syriza, led by former energy minister Panagiotis Lafazanis, accuses Tsipras of violating the mandate voters gave him in January and in the July 5 referendum that saw Greeks opposing further austerity measures. Lafazanis was replaced as energy minister after leading a revolt against the new loan agreement of as much as 86 billion euros ($95 billion) attached to belt-tightening conditions.
Split Party
"The party is set to split into at least two groups -- the left platform on the one hand and a more moderate and pragmatic group led by Tsipras on the other," Teneo Intelligence Managing Director Wolfango Piccoli wrote in a note to clients Wednesday. "This rift will likely make it impossible for Tsipras to secure an outright parliamentary majority in the snap polls."
Tsipras said that the referendum "no" vote on the terms of an earlier aid offer gave him a mandate to negotiate a better agreement, not to lead the country out of the currency bloc.
"It is remarkable that only two weeks after the proud ''no'' of the Greek people, the government asked authorization from the parliament to sign off on a new, third, bailout," Lafazanis told Left Platform supporters earlier this week.
Lafazanis was joined by several other prominent Syriza lawmakers in his mutiny, during two votes on upfront actions demanded by creditors, including parliament speaker Zoi Konstantopoulou. Tsipras now relies on opposition support as he was effectively stripped of his parliamentary majority.
Polls show that he is still the most popular politician in Greece and enjoys a lead over main opposition New Democracy party, even after six months of cliff-edge diplomacy, which left the country on the brink of exit from the euro area and its banking system on the verge of collapse.
Read this next:
According to Piccoli, the internal quarrel within the governing party could derail talks between Greece and its creditors. The two sides are rushing to seal an agreement before a payment on bonds held by the European Central Bank comes due on August 20.
"The risk of unforeseen intra-Syriza developments that could delay, and at worst derail, the ongoing talks between Athens and its international creditors cannot be discarded," Piccoli said.
Before it's here, it's on the Bloomberg Terminal.
LEARN MORE