These Economic Reports Will Determine When the Fed Will Raise Rates
These are the data points to watch most closely between now and September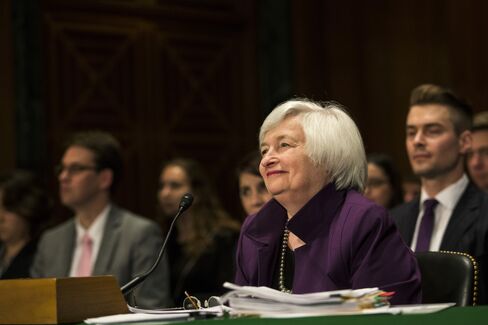 The Federal Open Market Committee made only tiny changes to their July policy statement, released Wednesday in Washington -- notably, policy makers didn't offer clear hints of whether or not they'll raise the main interest rate at their Sept. 16-17 meeting.
That fits with their mantra of data-dependence: They say they'll increase their target rate, known as the federal funds rate, when the economy gives signs that it's ready. It also means Federal Reserve-watchers must hone in on key reports to catch the signals that today's release didn't offer. Here are the crucial data points.
GDP
When it's coming: July 30, revision Aug. 27
What to watch for: Fed officials are looking for a sign that output recovered after a 0.2 percent slump in the first quarter. The median economist in a Bloomberg survey is looking for a 2.5 percent gain in the second quarter.
"It would have to be a significant surprise to change things,'' said Stephen Stanley, chief economist Amherst Pierpont Securities LLC in Stamford, Connecticut, and a former Fed researcher who is looking for a September rate increase. "If we get something along the lines of the consensus or better, we're fine.''
Inflation
When it's coming: The personal consumption expenditures price index, which is the Fed's preferred inflation gauge, comes Aug. 3 and Aug. 28. The consumer price index, a different inflation measure produced by the Bureau of Labor Statistics, comes Aug. 19 and Sept. 16
What to watch for: "The next critical issue is: Are we going to get some inflation numbers that signal a stronger economy?'' said John Silvia, chief economist at Wells Fargo in Charlotte, North Carolina. Policy makers are hoping inflation will show signs that it'll move up toward their 2 percent goal, which it has persistently undershot, with the year-over-year PCE deflator reaching just 0.2 percent in May.
For insight into how the Fed is interpreting inflation data, we'll have to wait for the July FOMC minutes, a more detailed description of what happened at this week's meeting that will be released Aug. 19. Officials made few changes to the inflation language Wednesday, aside from dropping the June phrase "energy prices appear to have stabilized."
Wages
When it's coming: The Employment Cost Index comes out July 31, Average Hourly Earnings data come Aug. 7 and Sept. 4.
What to watch for: In some ways, a wage pickup is the Holy Grail of labor market data: It's what we're all looking for. Sustained gains signal that the labor market is healed and tightening, giving workers bargaining power, and can be a sign of coming inflation, though those ties are more tenuous. The Bloomberg consensus is looking for a 0.6 percent pickup in the Employment Cost Index for the second quarter, which comes out later this week and measures changes in both wages and benefits. That would come after a 0.7 percent gain at the start of the year.
Employment
When it's coming: Aug. 7 and Sept. 4
What to watch for: The Fed painted a sunny picture of a healing job market and added that just "some" further improvement is needed to make a funds rate increase appropriate.
"Much as I love employment Friday and watching those numbers, I don't think that's the critical variable at this point,'' Silvia said. "I think employment is a done deal. They're talking about things being solid. I think it's time to move on."
Policy makers will have plenty of time to communicate how they're thinking about the numbers through speeches between now and September. For now, they've left the door wide open.
(An earlier version of this story was corrected to reflect proper spelling Silvia.)

Before it's here, it's on the Bloomberg Terminal.
LEARN MORE