Technical Analysis: Pound Heads for High Against Swiss Franc Seen Before Cap Removal
Daily, weekly, monthly charts aligned positively
GBP/CHF is initiating a fresh bullish leg that may extend as far as 1.5547, a 3.5 percent rally from current levels, based on a positive alignment in daily, weekly and monthly charts, Bloomberg Technical Analyst Sejul Gokal writes.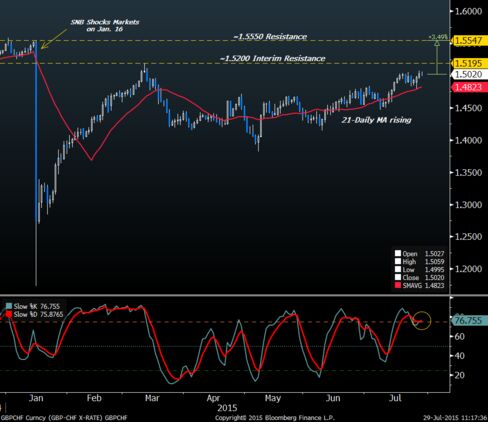 1.5547 is the intraday high reached shortly before the Swiss National Bank abandoned its policy of keeping a floor under the euro against the franc on Jan. 16. The latest U.K. fundamentals are in agreement with the constructive near-term technical setup.
The currency pair is on a winning streak this week after forming a key day reversal which typically has bullish connotations for the days ahead. Further advance was confirmed on Tuesday after second-quarter U.K. gross domestic product growth data showed the 10th straight quarter-on-quarter expansion with the key services sector expanding by 0.7 percent.
The recent price development on USD/CHF is also supporting the GBP/CHF cross, with the former exhibiting two bullish candlesticks in the past week (known as dragonfly doji) above the 200-day moving average support line, currently around 0.9530.
A potential risk to the upside scenario is a daily close below 1.4791, the July 27 low. This level can potentially come under pressure if the market becomes temporarily risk-averse or if traders push back the timing of a the first full 25-basis-point rate increase by the Bank of England, which is currently priced in for May 2016, according to SONIA implied forward rates.
NOTE: Sejul Gokal is a strategist who writes for Bloomberg. The observations he makes are his own.
Before it's here, it's on the Bloomberg Terminal.
LEARN MORE