Sky Full-Year Sales Jump on Web TV, New Customers in Germany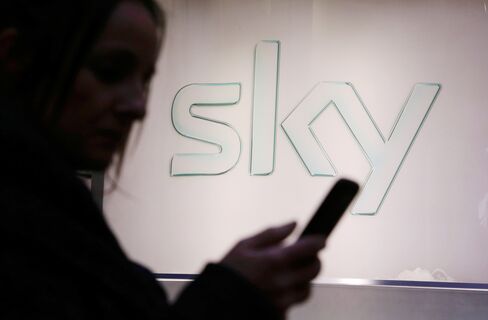 Sky Plc, Rupert Murdoch's European pay-TV company, reported sales that topped analysts' estimates, boosted by subscriptions to its Web-based Now TV service in the U.K. and new customers in Germany.
Sales rose 4.7 percent to 11.3 billion pounds ($17.6 billion) in the year ended June 30, Isleworth, England-based Sky said in a statement Wednesday. Analysts had predicted revenue of 11 billion pounds on average, according to data compiled by Bloomberg. Sky added about 158,000 retail customers last quarter, bringing the total to 21 million.
It said customer growth in the U.K. was the highest in 11 years as subscribers signed up for Web-based and TV services. The company is battling advances by BT Group Plc into its core sports market. BT outbid Sky for rights to some of the biggest soccer matches in the next few years and will begin to charge for new, premium channels that start broadcasting next month.
Average revenue per user, a measure of customers' monthly bills, was flat in the U.K. at 47 pounds and declined slightly in Germany and Austria to 34 euros from 35 euros last quarter.
Sky shares rose 2.9 percent to 1,156 pence at 8:01 a.m. in London trading. The stock has risen 29 percent this year.
Italy, Germany
Sky has started to see some benefits from creating a pan-European broadcaster after consolidating its German and Italian assets under the U.K. company. The company said it's "on track" to hit its target of 200 million pounds in synergies by the end of the fiscal year ending in June 2017.
Subscription revenues in Germany grew 10 percent after Sky's "best year of customer growth" so far for the market. Italian revenues fell 2.5 percent, which Sky blamed on the loss of wholesale sales from Champions League rights and a "tough market."
Sky spends about 2.6 billion a year on content for the U.K., including sports, its own entertainment products and rights to air Hollywood films. In February, the broadcaster agreed to pay more than 4 billion pounds for a three-year package of U.K. rights to broadcast live English Premier League soccer.
As more carriers provide combined TV, Internet and phone services, Sky tries to differentiate itself with products such as NOW TV, which features hit shows like "Game of Thrones" and "Mad Men" that can be viewed on mobile devices and laptop computers.
Before it's here, it's on the Bloomberg Terminal.
LEARN MORE