Russia Blocks Creation of Tribunal on Downed Malaysian Plane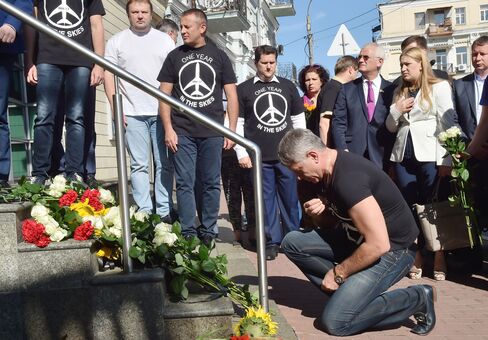 Russia vetoed a United Nations Security Council resolution that would have set up an international tribunal to prosecute those suspected of downing a Malaysian Airlines plane over Ukraine last year.
China, Angola and Venezuela abstained in support of Russia while the council's remaining 11 members voted in favor. President Vladimir Putin called Dutch Prime Minister Mark Rutte earlier on Wednesday to say that the Russian government will not support the creation of an international court due to the "many questions" it has about the evidence in the case.
Before the UN vote, Malaysian Transport Minister Liow Tiong Lai told the Security Council that his country drafted the resolution before the conclusion of the Dutch-led criminal probe in October to ensure the investigation is "as depoliticized as possible" and to allow prosecution to begin as soon as the findings are released.
"This veto is a setback, but we will continue, no less resolute in our objective to ensure that the perpetrators of this tragic air disaster are tried and prosecuted," Rutte said in a statement.
After the vote, Russian Ambassador to UN Vitaly Churkin told the council his country opposed the initiative because it is "premature, counterproductive and legally unsound" and the Dutch-led five-nation probe is biased in favor of Ukraine. The Russian veto sent a "dangerous message of impunity to the perpetrator of this heinous crime," Liow said of the veto.
Russia blamed Ukraine for the downing of flight MH17 in eastern Ukraine last July, which killed all 298 people on board, the majority of whom were Dutch, while the U.S. and the government in Kiev said Russia-backed separatists were at fault. Putin in November promised a full investigation into the incident.
Dutch Findings
Dutch investigators say that the evidence points to the involvement of pro-Russian rebels, who fired a missile from separatist-controlled territory, CNN reported this month, citing a person familiar with the report. The report also says that Ukraine authorities are partially responsible for allowing the plane to fly over a war zone, according to the person.
Putin has blasted "openly politicized" leaks from an unpublished report by the Dutch-led investigation team, and said that no decision should be taken on prosecuting and punishing those found guilty until the inquiry is completed.
"We would again like to affirm our commitment to a detailed and objective international investigation of the Malaysian jet crash," the Russian Foreign Ministry said in a statement on its website Thursday. "Russia will further on apply its most vigorous efforts to fully contribute to the investigation of the disaster."
The Netherlands and four other nations on the joint investigation team -- Malaysia, Australia, Belgium and Ukraine - - will push again for international prosecution in October when the Dutch Safety Board releases its final report on the crash, according to a Security Council diplomat.
"What is paramount here is that those who are responsible are held accountable," European Union spokeswoman Maja Kocijancic said at a news conference in Brussels.
'Deep Moral Duty'
Australian Foreign Minister Julie Bishop said those responsible can't hide behind Russia's veto and won't be allowed to evade justice because the five countries will now seek an alternative prosecution mechanism. Thirty-nine Australians were aboard flight MH17.
Ukrainian Foreign Minister Pavlo Klimkin said the resolution is not about targeting "Russia as a state sponsor of terrorism" but about the 298 people toward whom "we have a deep moral duty."
"Because of them we will keep pursuing whatever is needed," Klimkin added, without specifying what further legal options are available.
Before it's here, it's on the Bloomberg Terminal.
LEARN MORE