Poland's Richest Man and Privatization Tycoon Kulczyk Dies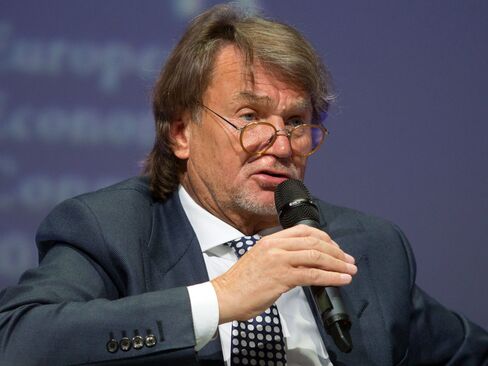 Jan Kulczyk, who became Poland's richest man after buying companies from the government and selling them to private investors following the fall of communism, died after undergoing heart surgery. He was 65.
Marta Wysocka-Antonsen, a spokeswoman for Kulczyk Investments, announced his death in a statement on Wednesday. He succumbed from complications after "minor cardiac surgery" in Vienna, Warsaw-based newspaper Gazeta Wyborcza said on its website. With a net worth of $3.5 billion according to the Bloomberg Billionaires Index, Kulczyk was also the biggest private donor to the Jewish Museum opened in Warsaw last year.
The billionaire built his empire in the turbulent 1990s as Poland transformed its communist-era economy by selling state-owned assets. His holdings grew as he acquired stakes in one of the largest brewers, an insurer and helped to broker the sale of incumbent telecommunications monopoly to France Telecom SA, now Orange SA, in the biggest privatization deal in the country's history, worth $4.3 billion.
"He was irreplaceable," Lech Walesa, former Polish President and leader of the Solidarity movement which helped overthrow communism, told TVN24 channel on Wednesday. "Without him, it will be difficult to accomplish many things."
Kremlin Spy
Sebastian Kulczyk, his son, has been the chief executive officer of the holding which invests in chemicals and energy production as well as infrastructure, since December 2013.
In the last decade Kulczyk unsuccessfully tried to merge central Europe's largest oil refiners PKN Orlen SA, in which he had a stake, Hungary's Mol Nyrt. and Austria's OMV AG. He moved to London in 2005 amid a Polish parliamentary probe into PKN's affairs, during which leaked secret-service documents showed the billionaire had met with a former Kremlin spy to allegedly discuss the nation's oil-industry sell-offs. Poland is dependent on Russia for almost all of its oil supplies.
Kulczyk denied any wrongdoing when testifying in the probe.
More recently, the billionaire was interested in projects with Ukraine, including buying electricity there and selling it in the European Union and exporting natural gas to the country.
In his last major transaction with the Polish government, Kulczyk bought a controlling stake in soda producer Ciech SA for $275 million in 2014. The company's shares have soared 126 percent since his purchase. They dropped as much as 5.3 percent drop on Wednesday on news of his death. Kulczyk's oil and gas exploration company Serinus Energy Inc. declined 3.1 percent.
He also holds a 0.9 percent stake in the world's second-largest brewer SABMiller Plc.
'Immense Intuition'
Kulczyk contributed 20 million zloty ($5.3 million) to Museum of the History of Polish Jews and was on the advisory board of the Atlantic Council, a foreign policy think-tank in Washington, D.C. He is survived by his son, daughter Dominika and former wife Grazyna Kulczyk, an investor and art collector.
Depending on how Kulczyk's wealth is divided, media and mobile telephony mogul Zygmunt Solorz-Zak could become Poland's richest person with a net worth of $2.6 billion, according to the Bloomberg Billionaires Index.
"Kulczyk was charming and open, which helped to build trust" following the introduction of Polish democracy and market reforms in 1989, Wieslaw Rozlucki, the first CEO of the Warsaw Stock Exchange, told TVN24. "He also had immense intuition from the very beginning."
Before it's here, it's on the Bloomberg Terminal.
LEARN MORE