Pimco Drawn to Tobacco Bonds for Yield Fix as Puerto Rico Twists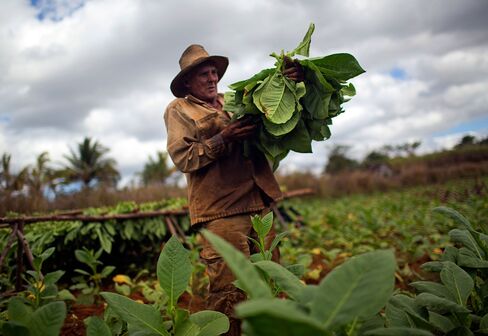 As Puerto Rico veers toward a historic default, investors who need a high-yield fix are turning to tobacco instead.
Pacific Investment Management Co. and AllianceBernstein Holding LP, which shed all holdings of the commonwealth's debt, have been buying securities backed by the cash states get from the 1998 legal settlement with tobacco makers. While Moody's Investors Service predicts 80 percent of the bonds may default as a drop in smoking cuts those payouts, the firms say the endgame is predictable, unlike the Caribbean island's: The interest would keeping coming until the debt is paid.
Tobacco bonds have returned 2.4 percent in July as prices rallied, more than triple the municipal market's gain, Barclays Plc data show. Some still yield more than 7 percent, a level rarely found on tax-exempt bonds outside of Puerto Rico.
"In a world where everyone wants income, 7 percent looks OK and tobacco's risks are known," said Guy Davidson, who oversees $32 billion as director of municipal fixed income at AllianceBernstein in New York. Four of the top 10 holdings in the company's high-yield muni fund are tobacco securities, including those sold by Ohio.
Ohio tobacco bonds due in June 2047 traded Wednesday at 80 cents on the dollar, close to the highest since June 17, to yield about 7.5 percent.
Shifting Risk
The $34 billion in tobacco securities outstanding are financed with payments companies make under the legal settlement, which are based on how many cigarettes they sell. State and local governments issued the debt to get the cash upfront, shifting the risk to investors if the payments fall short of expectations.
They've been a mainstay of the high-yield muni funds that have poured money into Puerto Rico. That's fostered speculation tobacco bonds could tumble if a default by the commonwealth on some of its $72 billion of debt leads investors to pull their money from the funds, which would force managers to sell investments to meet withdrawals.
So far, tobacco bonds have weathered the crisis. While individuals yanked money from high-yield funds in the days after Governor Alejandro Garcia Padilla said the island can't afford its debt, the outflows have abated. High-yield funds pulled in $11 million in the past two weeks, Lipper US Fund Flows data show.
Opportunity Ahead?
Peter Hayes, who helps oversee $116 billion as head of municipal debt at New York-based BlackRock Inc., the world's biggest money manager, said that doesn't mean the risk has subsided. The commonwealth may miss a payment on Public Finance Corp. bonds due Aug. 1 and is scheduled to propose a debt-restructuring plan a month later.
"That could be a catalyst for another leg down on some of the Puerto Rico bonds -- and if we see some additional selling, we might see spillover into the high-yield muni market, like tobacco," Hayes said. "There might be other buying opportunities ahead."
The yields on tobacco bonds reflect the risk. The earliest securities didn't anticipate how quickly smoking rates would fall. In the seven years through 2006, shipments dropped an average of 1.7 percent a year, according to data from the National Association of Attorneys General. The pace of decline almost tripled in the next seven years.
Default Risk
That's left four out of five bonds prone to default, according to Moody's.
That prospect doesn't bother David Hammer, a money manager at Pimco. Though the bonds may not make full principal payments when they're due, investors will be paid back eventually as long as cigarette shipments don't vanish entirely, he said.
By comparison, Moody's estimates that some owners of Puerto Rico securities may receive as little as 35 percent of what they're owed.
"The difference in tobacco is because you have a claim on those revenues in perpetuity, you're talking about the extension of the payment schedule as opposed to an actual principal haircut," said Hammer, who helps oversee $40 billion of munis for Pimco in New York.
The yields have so far been sufficient to draw buyers, said Davidson of AllianceBernstein.
"While we're all very cautious about the Puerto Rico contagion effect and having a run on muni high-yield, at these levels there seems to be support," he said. "For tobacco, it's steady as she goes, it offers a nice yield, and the contagion to Puerto Rico seems to be pretty modest."
Before it's here, it's on the Bloomberg Terminal.
LEARN MORE