Peugeot CEO Sees Iran Return Slowed by Fallout From Its Exit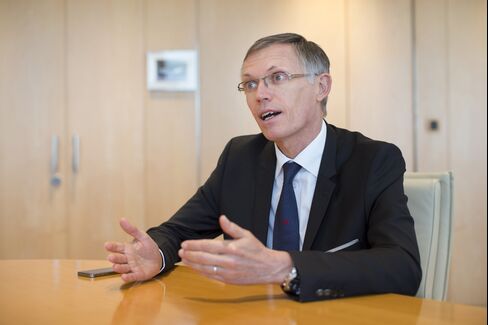 PSA Peugeot Citroen is finding that getting divorced from its partner in Iran was easier than making up again.
Peugeot's image has taken a hit in Iran because of its abrupt departure in 2012, when sanctions were imposed, Chief Executive Officer Carlos Tavares said in an interview. The French company is struggling to close an agreement with former partner Iran Khodro Co. to return to the market, where it has ambitions to regain its former leading position.
The French auto manufacturer frets it could be left behind as the oil-rich nation prepares for a flow of foreign investment following a preliminary agreement on its nuclear program. Iran Khodro CEO Hashem Yeke Zare said on Tuesday his company had been damaged by Peugeot's withdrawal from the market.
"Our partner should be concerned about having a Western partner that can bring him the technology and modernity that customers are expecting," Tavares said in his ninth-floor office in the manufacturer's Paris headquarters. France's image in Iran is "slowing down our talks."
Iran's biggest automaker, Iran Khodro built Peugeot vehicles from kits of parts. In 2012, the partners sold 473,000 units. Peugeot stopped supplying kits to Iran Khodro that year as political pressure mounted following a partnership agreement with General Motors Co.
"Peugeot needs to address this issue," Yeke Zare told reporters in Tehran. "There are other companies we can look at to be our main partner."
Peugeot's Competition
Peugeot has plenty of competition for the local partnerships Western manufacturers will need to be successful in post-sanctions Iran. Volkswagen AG and truckmaker Daimler AG are both exploring a return.
Iran Khodro is in talks on a truck, van and bus partnership with Daimler, Yeke Zare said. The state-controlled company may replace Peugeot with French rival Renault SA, he said. Volkswagen would also be an "appropriate" partner, he said, adding that the German company is talking to an Iranian carmaker, but declining to identify which one.
A failure to return to Iran, where IHS Automotive estimates the market could average 1.7 million vehicles in annual sales in the longer term, would be a blow to Peugeot. Like its competitors, the French carmaker is facing a market downturn in China even as it tries to expand its activities outside Europe. Peugeot has said it hoped to sell 400,000 units in Iran out of the 1 million it aims to deliver annually in Africa and the Middle East by 2025.
Peugeot "must always look after alternative solutions and a wide range of interlocutors and investment opportunities," Tavares said. "The world is big enough."
German Economy Minister Sigmar Gabriel went to Iran to discuss investments on July 19, just five days after Iran reached an agreement with six global powers, including France and Germany, to curb the Islamic Republic's nuclear program in exchange for easing economic sanctions. French Foreign Minister Laurent Fabius followed, meeting Iran President Hassan Rouhani on Wednesday.
Before it's here, it's on the Bloomberg Terminal.
LEARN MORE