Utilities Like It Hot as Weather Boosts Power Use
Utilities relish rising electricity demand just as children do ice cream, and as it turns out, warm weather is a draw for both.
Southern Co. was among those that reported second-quarter earnings boosts from higher retail sales as users turned up their air conditioners amid rising temperatures, increasing electricity consumption.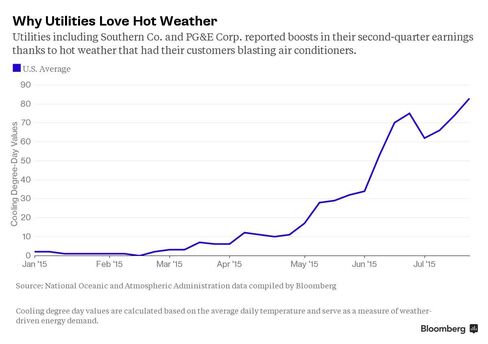 Average cooling degree days, a measure of electricity demand for air conditioning in the U.S., rose 24 percent in the second quarter from a year earlier, according to data compiled by Bloomberg. Based on cooling degree days, the 2015 second quarter was the fourth-warmest on record nationwide for the three-month period and the hottest since 2012, according to the National Oceanic and Atmospheric Administration.
"We had a heck of a first half of the year," Southern Chief Executive Officer Thomas Fanning said Wednesday in a conference call with investors.
It was the first time since 2004 that the Atlanta-based company saw two consecutive quarters of growth in residential, commercial and industrial electric sales, based partly on 22,000 new household customers, executives said. Cooling demand in Georgia, the state where Southern has the most customers through its Georgia Power subsidiary, rose 24 percent in the quarter from a year earlier.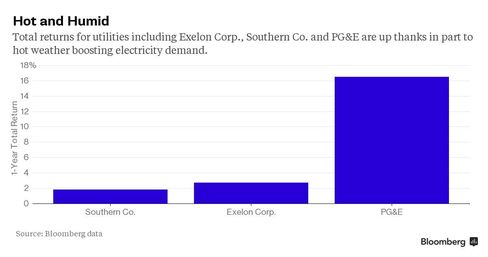 In California, where PG&E Corp. is based, the index for cooling demand rose 48 percent. California's second quarter was its hottest since 2011. PG&E's second-quarter electric revenue rose 7.1 percent to $3.46 billion.
California is among the states that have decoupled sales from utility earnings, so PG&E doesn't profit from weather-driven swings in sales, utility spokesman Brian Hertzog said Wednesday. Any revenue beyond that approved by the state finds its way back to customers in the form of reductions to future revenue authorized for the company, he said.
Midwest Exception
WEC Energy Group Inc., with utility customers in the Midwest, was an exception to the rise in sales. The company said Wednesday that residential electricity use dropped 5 percent in the quarter from a year earlier because of cool June weather.
Southern shares rose 3 cents to $43.57 in New York trading, while PG&E advanced 6 cents to $52.34 and WEC Energy gained 10 cents to $48.16.
North of the border, power providers are getting a boost from a temperature increase. Alberta spot electricity prices in the second quarter rose 35 percent from a year earlier. AltaGas Ltd., Atco Ltd., TransAlta Corp., TransCanada Corp. and Capital Power Corp. are among power generators that would have benefited from the higher spot prices, according to research reports from National Bank Financial, Raymond James Ltd., and RBC Dominion Securities Inc.
"If the third quarter is hot enough, they'll raise their guidance," Kit Konolige, senior utilities analyst for Bloomberg Intelligence, said of U.S. utilities.
Before it's here, it's on the Bloomberg Terminal.
LEARN MORE