Nokia Has a New 360-Degree VR Camera for Filmmakers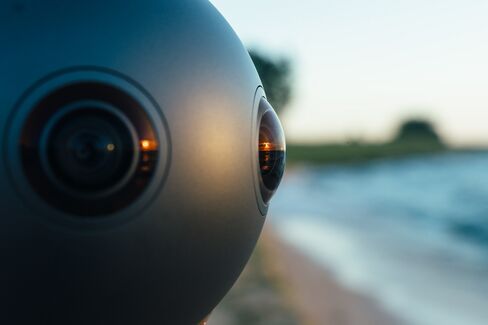 Nokia Oyj unveiled a virtual-reality camera for professional filmmakers and content creators, seeking to profit from the wealth of intellectual property rights it built up during its years as a mobile-phone powerhouse.
The ball-shaped gadget has eight shutter sensors capturing 3D footage for the creation of content for devices such as virtual-reality headsets, Nokia said in a statement. The company introduced the camera at a Los Angeles event attended by representatives from major studios and production houses.
The product is another signal that Nokia aspires to return to devices beyond network equipment after exiting mobile phones last year. A slew of virtual-reality headsets are hitting the market as companies such as Facebook Inc., Sony Corp. and Samsung Electronics Co. seek to win over users with the ski-goggles-styled gadgets that let people immerse themselves in virtual games or experience new locations.
Nokia, based in Espoo, Finland, has three businesses left after it sold its phone-unit to Microsoft Corp. for about $7.5 billion: the networks division, which makes up about 90 percent of revenue, a maps business, and a research and development unit which is responsible for licensing its patents. Foxconn Technology Group is paying to use Nokia's technology in the N1 Android tablet, unveiled last year.
The virtual-reality camera, called Ozo, will probably start shipping in the fourth quarter, Nokia said. The company will disclose the price and full specifications later on.
For more, read this QuickTake: Virtual Reality
Before it's here, it's on the Bloomberg Terminal.
LEARN MORE