Netanyahu Allows West Bank Homes Amid Conflict With Settlers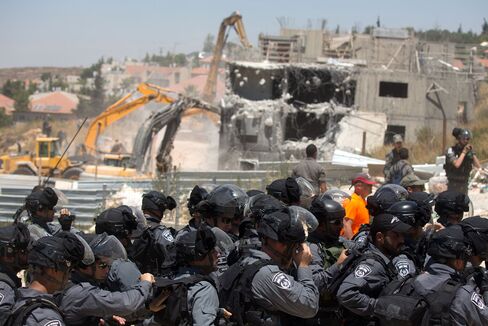 Israeli Prime Minister Benjamin Netanyahu approved the construction of 300 apartments in the West Bank settlement of Beit-El after an appeals court ordered that two buildings at the same site be demolished.
Netanyahu's decision on Wednesday came amid two days of clashes between police and settlers trying to prevent the demolition order from being carried out. The prime minister also advanced plans for more than 400 apartments at four sites in east Jerusalem.
The move is likely to inflame already tense ties between Israel and the Palestinian Authority after U.S.-brokered peace talks collapsed over issues including the construction of settlements on land the Palestinians want for their future state.
"After consultations in the prime minister's office, the immediate construction was approved" for the new homes in Beit-El, Netanyahu said. The settlement of some 6,000 Israelis neighbors the Palestinian city of Ramallah.
Settlers are mounting protests across the West Bank while marking the 10th anniversary of Israel's withdrawal from the Gaza Strip, in which more than 8,000 Jews were evicted from their homes. Israel's High Court of Justice upheld demolition orders for the two structures in Beit-El on Tuesday, ruling that they were built illegally on land owned by Palestinians.
The Palestinians say Israel's settlement construction and its demands to retain control over security in the area undermine their right to a viable state. Israel captured the West Bank in the 1967 Middle East war.
'Greater Israel'
"Israel is deliberately and willfully defying international consensus to create 'Greater Israel' on historical Palestine," Hanan Ashrawi, a member of the Palestine Liberation Organization's Executive Committee, said in an e-mailed statement.
Separately, Amnesty International issued a report accusing Israel of committing war crimes during last year's 50-day military conflict with Hamas in Gaza. Israel's Foreign Ministry said in a text message that the report was "fundamentally flawed in its methodologies, in its facts, in its legal analysis and in its conclusions."
According to a statement e-mailed by the London-based human rights group, "there is strong evidence that Israeli forces committed war crimes in their relentless and massive bombardment of residential areas" in the southern border town of Rafah.
The report focused on Israel's military reaction to the capture of Lieutenant Hadar Goldin by Palestinian militants. The Israeli army concluded that Goldin died in the incident.
Hamas, which seized control of Gaza from the Palestinian Authority in 2007, is considered a terrorist organization by Israel, the U.S. and European Union.
Before it's here, it's on the Bloomberg Terminal.
LEARN MORE